Welding Products include power sources, drives, and feeders.
Press Release Summary: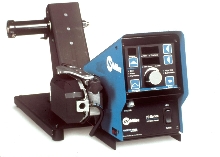 CST(TM) 250 Stick/TIG power source provides 250 A for stick and TIG welding. CST Rack for multiple operators can hold up to 4 welding units. Bobcat(TM) 250 NT engine driven welding generator's rated output in CC/DC/AC mode is 250 A at 25 V, 100% duty cycle. 70 Series constant-speed wire feeders are available in bench-top, boom-mounted, and single- and dual-wire configurations.
---
Original Press Release:
Miller Introduces Unique Welding Products At AWS Welding Show

* New multiple welding unit rack is smallest, lightest in industry
* New engine drive has excellent simultaneous weld output and auxiliary power
* Full-featured, easy-to-use wire feeders handle tough conditions

APPLETON, Wis., March 2002 - Miller Electric Mfg. Co. will introduce and demonstrate several new welding products that are versatile, easy to use and improve productivity at the AWS Welding Show 2002, March 4-7, 2002 in Chicago.

Some of these new products include:
* CST(TM) 250 Stick/TIG power source and CST Rack for multiple operators
* Bobcat(TM) 250 NT engine driven welding generator
* 70 Series wire feeders

CST 250 and CST Rack
Miller's new durable but lightweight Stick/TIG welding power source is designed with the field construction industry's needs in mind. The 40-lb. inverter-based unit has up to 250 amps of output for Stick welding with electrodes up to 3/16 in. and TIG welding pipe and plate. The CST 250 is also simple to operate-it automatically sets the proper dig setting on E6010 and E7018 electrodes for superior Stick performance. The Lift-Arc start feature allows for TIG arc starts without high frequency.

The CST 250 is available rack-mounted as a four-pack for protection and easy transportation when job sites require multiple welding units. At 328 lb. fully-loaded, the CST Rack is the lightest and smallest welding rack available in the industry. It is also small enough to fit into a passenger elevator for easy moving.

Bobcat 250 NT
For those who demand a rugged, reliable engine-driven welding generator with multiple process welding capabilities and plenty of auxiliary power, Miller designed the Bobcat 250 NT. It retains the classic Bobcat series design with proven reliability in tough environments such as dirty, wet and corrosive field conditions.

The Bobcat 250 NT performs excellent Stick, DC TIG, and flux cored welding. It is also capable of AC TIG, solid wire and carbon arc gouging with 3/16-in. carbons. The unit's rated output in CC/DC/AC mode is 250 amps at 25 volts, 100 percent duty cycle. Four CC ranges (40-100, 60-140, 80-200 and 100-250) maximize auxiliary power while welding. A CV rated output of 250 amps, 28 volts at 100 percent duty cycle (275 amps, 25 volts at 60% duty cycle) allows for use of either solid or flux cored wires.

70 Series Wire Feeders
The new 70 Series of semiautomatic, constant-speed wire feeders are designed to provide superior arc control and ease-of-use even in the most demanding wire welding applications. Available in bench-top, Swingarc (boom-mounted), single- and dual-wire configurations, the feeders are ideal for use in heavy manufacturing, metal fabrication, construction and light manufacturing applications.

The 70 Series feeders are available in three versions that offer flexibility in operator control for all welding applications. The standard version (74S) provides superior arc control and weld consistency for those who currently do not need meters or control of weld sequence. The ability to upgrade to a digital or deluxe model with a simple change of the front panel and ensures that, as business needs grow, the machine's functionality grows as well. The digital-metered version (74D) has a digital display for more accurate parameter setting and is also upgradeable. The full-featured deluxe version (74DX) offers microprocessor capabilities at an affordable cost. These capabilities include an adjustable weld sequence control to help maintain weld consistency and quality between shifts and operators and easy-to-understand controls.

To see these Miller products in action, visit Miller's booth #1635 at the AWS Welding Show 2002. To purchase Miller products on-line or to download a product spec sheet, visit Miller's website at www.MillerWelds.com. Only Miller combines the convenience of on-line shopping with the expertise of a local distributor for sales and service.

Headquartered in Appleton, Wis., Miller is a leading worldwide manufacturer of arc welding equipment and related systems for metalworking, construction, maintenance and other applications. Miller Electric Mfg. Co. is a wholly-owned subsidiary of Illinois Tool Works Inc. (ITW), Glenview, IL. ITW is a diversified multinational manufacturer of highly-engineered components, assemblies and systems.

More from Agricultural & Farming Products