Welding Platen Stands are custom-made.
Press Release Summary: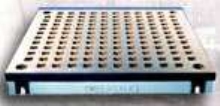 Flush Mount Platen Stands allow multiple beds of platens to fit together seamlessly, providing enlarged work surface. Platens and stands can be positioned and aligned to allow walking room between platens, or they can be combined in custom configuration to fit application. Flat, smooth, machined cast iron welding surface minimizes warping, sagging, and damage resulting from extensive use.
---
Original Press Release:

Custom Welding Platen Stands by Weldsale


Helps You Build Faster, Better, for Less!

Weldsale is a welding supply distributor that manufactures custom welding solutions. We recently announced the launch of a second Philadelphia, PA division, Weldingpro.com, incorporated to efficiently expedite the needs of welders worldwide. In addition to selling a full line of new and used welding equipment, Weldsale manufactures uniquely designed welding platens and platen stands made of cast iron to resist warping and damage common to standard platens. Weldsale platens are ideal for layout, bending, straightening, and assembly with welding and/or plasma cutting applications. You will find our products being used in maintenance shops, fabrication shops, production lines, machine builder shops, military & government installations, automation assembly facilities, and anyplace where welding is performed.

Weldsale welding platens and stands come in standard and custom sizes to fit any work area and welding application. Standard New Style Weldsale Flush Mounted Platen Stands allow fast and efficient construction of multiple platen beds. Flush Mount Platen Stands allow a multiple bed of Weldsale platens to fit together seamlessly, providing you with an enlarged work surface. Weldsale platens and stands can be positioned and aligned to allow walking room between platens or be combined in a custom configuration to fit your application. Our flat, smooth machined cast iron welding surface is a uniquely patented design that cuts down on warping, sagging, and damage that results from extensive use, resulting in an overall cost savings.

With over 45 years of supplying welding equipment and new & reconditioned platens, Weldsale and Weldingpro.com have the experience and integrity to meet all of your welding demands. We specialize in going beyond the distribution of welding equipment and providing value added services. We tackle your difficult welding applications by customizing a solution to fit your needs and supplying the required equipment, be they standard, custom, obsolete, or reconditioned. All major welding equipment lines are represented including: Miller®, Lincoln®, ESAB®, Victor®, Smith®, Airco®, National Standard®, Jackson®, and Hcbart®. All of our equipment is shipped with a warranty to anywhere in the United States.

We are a second-generation family business continuously running since 1946. We believe in specialized professional service. We believe in dedication, loyalty, honesty, and building relationships with our customers.

Contact Paul Cunningham for more information: Phone: (215)-739-7474, Fax: (215)-426-1260, email: pcunningham@weldingpro.com. www.weldingpro.com. www.weldsale.com.

For more information, for general public:
Daniel Cunningham
Phone: (215)-426-6650
Fax: (215)-426-1260
Email: pcunningham@weldingpro.com
weldingpro.com; www.weldsale.com
2151 Dreer Street
Philadelphia, PA 19125-1997

More from Explosives, Armaments, and Weaponry