Welding Lathe handles small, round parts.
Press Release Summary: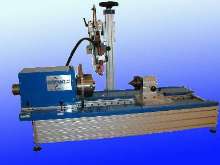 VARIOTURN Welding Lathe interfaces to ORBIMAT 250C orbital-welding power supply, which controls welding cycle, supplies up to 2,000 welding procedures, checks welding parameters to 2 decimal places 500 times/second, and adjusts as necessary. Infinitely adjustable tail stock saddle is locked securely in place by pneumatic locking system. Torch tower is moved on easy-glide rail, and arc gas is controlled by mechanical compensation system.
---
Original Press Release:
Welding Round Small Parts

The VARIOTURN welding lathe from Orbimatic GmbH has been designed for welding small components which can be rotated easily. The VARIOTURN welding lathe has been designed to be interfaced to the ORBIMAT 250C orbital welding power supply which will control the whole welding cycle.

The ORBIMAT 250C power supply can supply up to 2000 welding procedures which include applications details such as tungsten type geometry, arc gap and material types. The ORBIMAT 250 also checks the welding parameters to two decimal places 500 times per second and adjusts as and when necessary to ensure repeatable welds are produced.

The VARIOTURN welding lathe benefits from an infinitely adjustable tail stock saddle which is locked securely in place by a pneumatic locking system. Components are also securely positioned by a pneumatic tail stock advance system.

The torch tower is moved on an easy-glide rail and has a smooth action torch geometry setting system to make it simple to lock the welding torch into the perfect position. The arc gas is controlled by means of a mechanical compensation system to give a steady arc voltage during rotation.

Rotation of the lathe is controlled by a tacho-feed back which ensures a consistent weld profile.

VARIOTURN welding lathes can be tailored to suit any application, no matter how large or small the component.

For further details of the Orbimatic range please contact :

Orbimatic GmbH

PO Box 416

Welbeck Way

PETERBOROUGH

PE7 3FT

Telephone 01733 244063

Fax 01733 244463

Email: info@orbimatic.co.uk

Website : www.orbimatic.co.uk
More from Packaging Products & Equipment