Welding Helmets provide protection and style.
Press Release Summary: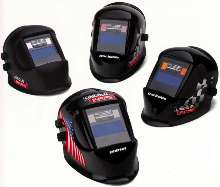 Auto-darkening Ultrashade® helmets eliminate need to lower or lift helmet at start or stop of weld. As welding arc is detected, helmets darken to appropriate level of shade protection within a fraction of milliseconds. Available with patriotic and motor-sports graphics, they protect users from UV light, spatter, and fumes. Features include solar power, Swiss optics, and fully adjustable ergonomic design.
---
Original Press Release:

Eye-Catching Graphics And Updated Design Featured On New Lincoln Electric Ultrashade® Welding Helmets


Cleveland, Ohio -- Lincoln Electric's new line of auto-darkening Ultrashade® welding helmets offer a sleek new design with eye-catching graphics that allow welding operators to sport a great look without sacrificing quality or safety. Auto-darkening helmets are a hit with both novices and experienced professionals because they eliminate the need to lower or lift the helmet at the start or stop of the weld. As a welding arc is detected, these helmets automatically darken to the correct level of shade protection within a fraction of milliseconds

Now, welders can show their patriotism or love for motorsports, while still obtaining superior protection from ultra-violet light, spatter and fume. These new helmets provide the top optical quality, innovative comfort features and rugged construction that operators have come to expect from Lincoln's Ultrashade brand. All Ultrashade helmets feature solar power, proven electronics, Swiss optics, a fully adjustable ergonomic design for comfort and a two-year warranty.

Features of the new helmets include:

o Sleek, rounded shape and new edge lip to help shed spatter and fume

o Extended shell design provides more coverage for the head and neck

o Front opening accepts industry standard 4.5 x 5.25" clear spatter shields

Models Available

Two models are available:

o Platinum II - provides automatic, continuously adjustable shade protection (levels 9 through 13) with the twist of a knob. This model also features a selectable fast or slow dark-to-light switching time option

o Silver - for automatic protection (levels 10 or 11), these models feature selectable darkness shades of 10 or 11 with the simple flip of a switch.

Eye-catching graphic option choices provided by the line are:

o Trackside - featuring a checkered flag and a motorsports motif (available in Silver and Platinum II models)

o Patriot - showcasing a U.S. flag (available in Silver model only)

o Elite - a stylish matte black finish with Lincoln Electric logo (available in Silver model only)

All models feature:

o A sensor bar to eliminate the influences of the surrounding light. Using solar light eliminates the need for an on/off switch or batteries, so the user never has to remember to turn on the auto-darkening system or replace batteries.

o A CSA & ANSI Z87-certified bonded, four-layer optic block provides continuous protection over the entire field of vision while special filters provide permanent protection against UV and IR radiation.

Comfort

Weighing in at just over 16 ounces, the Ultrashade helmets are comfortable to wear. A headband, with an ergonomic horizontal adjustment setting, allows the user to determine the closeness of the helmet to the face. In addition, an eccentric knob adjusts the tilt of the mask to the chest. A replaceable sweatband helps the welder keep perspiration out of his or her way. Add Lincoln's new hard hat headgear option and the helmet can be fitted to a hard hat for job sites requiring hard hat protection. The highly adjustable and flexible design ensures that the mask will stay in place and provide a comfortable fit, even after many hours.

The Lincoln Electric Company, Cleveland, Ohio, is a world leader in the design and manufacture of arc welding equipment and consumables, robotic welding systems, plasma and oxyfuel cutting equipment.

This product is available at a welding supply store near you. Or, call 1-888-355-3213 or visit www.lincolnelectric.com to obtain Bulletin E12.205 to learn more about the Ultrashade helmets.

More from Controls & Controllers