Welding Helmet is made of AMODEL(R) polyphthalamide.
Press Release Summary: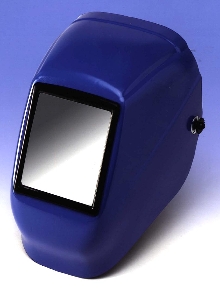 FUTURA(R) protective welding helmet, made from AMODEL AT-5001, provides heat and impact resistance, dimensional stability, and resistance to chemicals, scratches, and cracks. AMODEL polyphthalamide semi-crystalline engineering polymer has mechanical properties that offer favorable characteristics in strength, stiffness, fatigue and creep resistance.
---
Original Press Release:
AMODEL(R) PPA Helps Fibre-Metal Products
Lighter weight design also boasts high heat, impact resistance Alpharetta, Ga. -A high-performance polymer from Solvay Advanced Polymers, L.L.C., is helping a Pennsylvania-based manufacturer of protective equipment offer an innovative welding helmet that will be displayed in Solvay Advanced Polymers' booth (#6639) at this year's National Manufacturing Week, being held from March 18-21, at McCormick Place, in Chicago, Ill. Solvay Advanced Polymers will exhibit a Fibre-Metal Products Co. FUTURA® protective welding helmet, which is made from AMODEL AT-5001. The new helmet design was first introduced in 2001 at The American Welding Society trade show and has been gaining in popularity ever since, according to Robert Ennamorato, vice president of marketing and sales at Fibre-Metal Products. "We selected AMODEL PPA because it allowed us to produce a new helmet with improved performance in every significant welding-related characteristic-including making it more lightweight for greater comfort," said Ennamorato. "Welders want performance they can count on from their tools. With the FUTURA helmet, they don't have to worry about broken or stripped headgears or thin nylon shells cracking or burning through. At a time when other welding manufacturers are singing the praises of their helmets' paint job, FUTURA provides a tool to help welders stay on the job longer and produce more," Ennamorato added. "AMODEL PPA has proven superior in every significant performance characteristic related to a welding environment, including greater heat and impact resistance, better dimensional stability, and more resistance to chemicals, scratches, and cracks," he said. AMODEL polyphthalamide is a unique semi-crystalline engineering polymer that bridges the cost-performance gap between traditional engineering thermoplastics - such as polycarbonate, polyamides, polyester and acetals - and higher-cost specialty polymers - such as liquid crystal polymers, polyphenylene sulfide and polyetherimide. AMODEL polyphthalamide has excellent mechanical properties - strength, stiffness, fatigue and creep resistance - over a broad temperature range. About Solvay Advanced Polymers Solvay Advanced Polymers, L.L.C., is a subsidiary of Solvay America, Inc. The company produces high-performance polymers that are used in a wide range of demanding applications in the automotive, aerospace, industrial, foodservice, medical and electronics industries worldwide. Solvay Advanced Polymers was formed when Solvay S.A. combined its PA-MX6 and PPS product lines with a portfolio of materials that had comprised BP Amoco's engineering resins business. Solvay S.A. is an international pharmaceuticals and chemicals group with headquarters in Brussels, Belgium, employing about 32,000 people in 50 countries. In 2001, its consolidated sales amounted to EUR 8.7 billion generated by its four activity sectors: Pharmaceuticals, Chemicals, Plastics and Processing. Solvay is listed in the Euronext 100 index of top European companies. Details are available at www.solvay.com About Fibre-Metal Products Co. The Fibre-Metal Products Company was formed in 1905 when its founder invented the protective welding helmet. During the ensuing years, Fibre-Metal pioneered the development of quality protective caps, faceshields and goggles with innovative designs, material and workmanship. Today, the company provides a wide array of top quality, high performance head, face, eye, hearing and respiratory protective products. Customers are served from the company's corporate headquarters and modern, high-tech plant in Concordville, Pa., which is computer linked to regional service centers in Aston, Pa., Atlanta, Ga., Chicago, Ill., Houston, Texas, and Los Angeles, Calif. Canadian customers are serviced by a subsidiary company, Fibre-Metal Canada, in Toronto. Another subsidiary company, Fibre-Metal M-T-D produces high quality molds, tools and dies along with design and engineering services for the injection molding industry. Details are available at www.fibre-metal.com.