Welding Generator is driven by diesel engine.
Press Release Summary: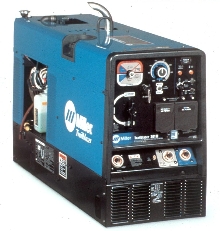 Trailblazer(R) 301 D boasts 300 A output and 10,000 W peak auxiliary power rating at 104 deg F. Multi-process, CC/CV machine provides 20 to 300 A dc output for Stick, TIG, MIG and Flux Cored welding. It also provides 35 to 225 A of ac current at 60% duty cycle for TIG welding. Generator is powered by 18.8 hp Kubota diesel engine that idles immediately when started. Welding arc is not affected when using auxiliary power.
---
Original Press Release:
Powerful Trailblazer Engine Drive Now Runs On Diesel Fuel
- Trailblazer 301 D features 10,000 watts auxiliary power - Improved arc performance - Engine idles when started to extend engine life, reduce fuel consumption APPLETON, Wis., March 22, 2002 - Miller Electric Mfg. Co. has introduced the new Trailblazer® 301 D diesel engine driven welding generator. The Trailblazer 301 D provides 20 additional amps of CV power and an extra 1,000 watts of auxiliary power, when compared to the old 300 D NT model. It boasts a 300 amp output and 10,000 watt peak auxiliary power rating at 104 deg F. This multi-process, CC/CV machine provides a 20 to 300 amp DC output for Stick, TIG, MIG and Flux Cored welding (100 percent duty cycle at 300 amps, 25 volts for MIG and Flux cored). The Trailblazer 301 D also provides 35 to 225 amps of AC current at 60 percent duty cycle for TIG welding. It offers users all of the benefits of the Trailblazer 301 G, but powered by an 18.8 HP Kubota diesel engine. For safety reasons, many job sites require the use of machinery that operate on diesel fuel. "In this situation, the Trailblazer 301 D is ideal for independent contractors because not only do they get power and reliability of the Trailblazer series, but they know they'll be able to take this machine to any job site," said John Leisner, product manager, Miller Electric. The Trailblazer 301 D has more "dig" for Stick welding for improved E6010 pipe welding and smooth E7018 performance in all positions. Also, the machine offers better DC TIG scratch starts to minimize tungsten contamination. To decrease noise, engine-wear and fuel consumption, the Trailblazer 301 D uses an Automatic Start at Idle feature that idles the engine immediately when started. "In addition, the Trailblazer 301 D provides a smoother and more controllable AC TIG arc," said Leisner. "Professional welders and contractors know that the Trailblazer has had the best welding arc in its class for more than 15 years, and the Trailblazer 301 D's arc performance is even better." More Power for Tools When not welding, the Trailblazers provide 9,500 watts of continuous auxiliary power to enable Miller's Spectrum(R) 2050 plasma cutter to cut mild steel up to 3/4 in. thick. Competitive systems cannot cut steel thicker than 3/8 in. In addition to its versatility, Leisner said the machine's welding and auxiliary power capabilities set it apart from competitive machines. Designed for dual purposes, the Trailblazer features separate generators for welding and auxiliary power. This means that operators can set the volt/amp control to less than maximum and the auxiliary power output remains fixed at a constant 120 or 240 volts. "The welding arc is not affected when using the auxiliary power and welding, as a result customers using a Trailblazer get more work done," stated Leisner. "For example, while one operator is Stick welding at 150 amps with a 1/8 in. diameter 7018 rod, another operator can draw up to 6,700 watts of auxiliary power and get full performance from drills, grinders, saws, compressors and lights. Some other brands of engine drives slow tool speed or fail to provide any useful amount of auxiliary power while under a welding load." For further efficiency, a 14-pin receptacle connects TIG torches and wire feeders directly to the machine's front panel without add-on modules. This allows contractors to take shop equipment, such as the S-22P12 and SuitCase 8VS(TM) portable feeders and the Spoolmatic(R) 30A spool gun, and use them in the field. An 18.8 HP Kubota engine powers the welding generator. For easy maintenance and increased machine efficiency, a remote tool-less oil drain is standard along with a stainless steel exhaust pipe and a fully color-coded front panel. The welding components on the Trailblazer 301 D are covered by Miller's True Blue® three-year factory warranty. The Kubota engine has a warranty covered separately by the manufacturer. To purchase these machines on-line or to download a product spec sheet, visit Miller's Web site at www.MillerWelds.com. Only Miller combines the convenience of on-line shopping with the expertise of a local distributor for sales and service. For more information or the Miller distributor nearest you, call 1-800-4-A-MILLER (800-426-4553), fax 877-327-8132, visit the website or write to Miller Electric Mfg. Co., P.O. Box 100, Lithonia, GA 30058. Headquartered in Appleton, Wis. Miller is a leading worldwide manufacturer of arc welding equipment and related systems for metalworking, construction, maintenance and other applications. Miller Electric Mfg. Co. is a wholly-owned subsidiary of Illinois Tool Works Inc. (ITW), Glenview, Ill. ITW is a diversified multinational manufacturer of highly-engineered components, assemblies and systems.
More from Mechanical Power Transmission