Welding Electrodes suit power generation industry components.
Press Release Summary: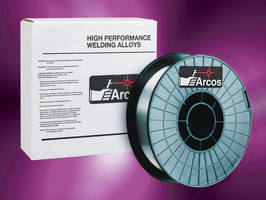 Developed for welding components that operate at elevated temperatures, bare wire (ER90S-B9) Arcos 90S-B9 is available in diameters from .035 to 3/16 in. and is suited for use in power generation facilities as well as coal plants and oil refineries. Covered (E9015-B9) Arcos 9015-B9 is designed for high chromium alloyed 9CrMoNbV steel and can be used for welding heavy wall components such as headers and main steam piping. It is available in diameters from 3/32 to 3/16 in.
---
Original Press Release:

Arcos Stainless Steel Electrodes Handle Critical Power Generation Plant Welding



Mount Carmel, PA -Arcos Industries, LLC offers new bare wire and covered stainless steel electrodes, Arcos 90S-B9 and Arcos 9015-B9, which are intended for welding key components in the power generation industry.

The bare wire (ER90S-B9) Arcos 90S-B9 was developed for welding components which operate at elevated temperatures. This products' chemistry has been modified to improve long term creep properties, which make it well suited for welding parts in power generation facilities as well as coal plants and oil refineries.

The covered (E9015-B9) Arcos 9015-B9 electrodes are designed for welding higher chromium alloyed 9CrMoNbV steel. This outstanding electrode is utilized for welding heavy wall components such as headers and main steam piping. In addition, Arcos 9015-B9 is used for welding turbine rotors in fossil fueled power plants.

Arcos 90S-B9 bare wire electrodes are available in diameters from .035"- 3/16", the Arcos 9015-B9 covered electrodes in diameters from 3/32" - 3/16".

For more information on Arcos 90S-B9 bare wire and Arcos 9015-B9 covered stainless steel electrodes, contact Arcos at (800) 233-8460 or visit the website at www.arcos.us.

Arcos Industries, LLC

One Arcos Drive

Mount Carmel, PA 17851

Phone: (800) 233-8460

Fax: (570) 339-5206

www.arcos.us

Contact: chenninger@arcos.us

Related