Welder and Feeder suit construction and shipbuilding markets.
Press Release Summary: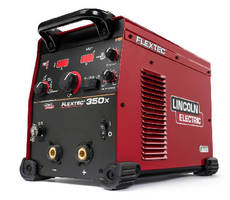 Featuring CrossLinc™ Technology, Flextec 350X Multi-Process Welder and LN-25X Wire Feeder use proprietary communications protocol to transfer operator voltage adjustments at feeder to power source hundreds of feet away via copper weld cable. Flextec 350X is rated 300 A, 32 V at 100% duty cycle or 350 A, 34 V at 60% duty cycle. Featuring feed speed range of 50–700 ipm, LN-25X is rated 450 A at 60% duty cycle. Wire diameters range from .023–1/16 in. for GMAW wires and .030–5/64 in. for cored wires.
---
Original Press Release:

Lincoln Electric's New Flextec® 350X and LN-25X Feature CrossLinc(TM) Technology to Make Life Easier for Job-Site Welders



New System Adds Safety, Quality and Productivity for Construction and Shipbuilding Welding



Cleveland – Lincoln Electric launches new CrossLinc™ Technology-enabled welding equipment, providing advantages for the construction, shipbuilding, barge, heavy fabrication and other markets. The Flextec® 350X welder and LN-25X wire feeder use a proprietary communications protocol to transfer operator voltage adjustments at the feeder to the power source hundreds of feet away using a common, copper weld cable. No additional control cable is required. The result is greater safety, quality and productivity for job-site and fab-shop environments.



Flextec 350X

Built on industry-proven design elements, Lincoln Electric's new Flextec 350X multi-process welding power source delivers premium arc performance for all DC wire, stick and TIG processes and gouging up to 3/16 inch (4.8 mm). Engineered for outdoor use and harsh environments, this IP23-rated welder features fully protected components.



With an output range of 5 to 425 amps, the Flextec 350X is rated at 300 amps, 32 volts at 100 percent duty cycle or 350 amps, 34 volts at 60 percent duty cycle. Lightweight and portable, the compact new model weighs only 77 pounds (34.9 kilograms).



The Flextec 350X is offered as a Construction model for connection with across-the-arc or CrossLinc-enabled feeders or a Standard model compatible with a greater selection of feeders, including across-the-arc, analog, digital or CrossLinc Technology-enabled wire feeders. Multi-operator 4-pack and 6-pack rack systems are available for each model.



LN-25X

Built using the same proven design qualities of the LN-PRO product line, the LN-25X feeder is designed to be simple, reliable and easy to service when necessary. LN-25 PRO feeders feature a rugged Maxtrac™ drive system, dual range wire feed speed, encapsulated and protected electronics and a tough, flame-resistant case.



This feeder is rated 450 amps at 60 percent duty cycle, with a wire feed speed range of 50-700 inches per minute. Wire diameters range from .023-1/16 inch (0.6-1.6 millimeters) for GMAW wires and .030-5/64 inch (0.8-2.0 millimeters) for cored wires. The LN-25X can handle 12 inch (305 millimeters) or 8 inch (203 millimeters) spools and weighs less than 37 pounds (16 kilograms).



The X in the LN-25X name indicates the feeder is designed for Lincoln Electric's CrossLinc Technology-enabled operation as well as across-the-arc operation.



For more information, view brochures E5.97, E8.101 and E8.01 on www.lincolnelectric.com.



Lincoln Electric is the world leader in the design, development and manufacture of arc welding products, robotic arc welding systems, plasma and oxyfuel cutting equipment and has a leading global position in the brazing and soldering alloys market. Headquartered in Cleveland, Ohio, Lincoln has 47 manufacturing locations, including operations and joint ventures in 19 countries and a worldwide network of distributors and sales offices covering more than 160 countries. For more information about Lincoln Electric and its products and services, visit the company's website at www.lincolnelectric.com.



Media Contacts:

Greg Coleman 

greg_coleman@lincolnelectric.com  

216.383.2462

More from Fluid & Gas Flow Equipment