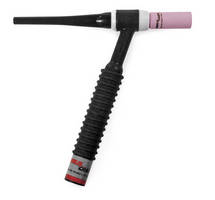 o Ideal for 'walking the cup'

o Sturdy threaded handle design resists twisting

o Reliable air-cooled capacity

APPLETON, Wis - To help welding operators gain superior control on pipe welding applications, Weldcraft offers its WP-17-PSH and WP-17V-PSH TIG torches. These TIG torches feature a durable threaded handle that resists twisting or slipping, making it ideal for 'walking the cup' on long pipe joints.

Like other Weldcraft TIG torches, the WP-17-PSH and WP-17V-PSH TIG torches contain high temperature silicon that prevents high-frequency voltage leaks and ensures consistent weld quality each and every time. Both torches are rated at 150 amps DC and 115 amps AC at 60 percent duty cycle, and offer reliable air-cooling capacity that prevents overheating and provides greater operator comfort. The torches can both accommodate tungsten electrodes ranging from .020- to 1/8-inch diameter.

The valved version of the torch, the WP-17V-PSH, offers easy shielding gas control when coupled with TIG power sources that do not have a gas solenoid. Both the WP-17-PSH and WP-17V-PSH TIG torches are available with a variety of accessory kits and cable covers. Additionally, Weldcraft offers both of the torches in 12.5- and 25-ft, one- or two-piece cable lengths.

For more information, contact Weldcraft at 800-752-7620 or 920-882-6800; fax: 920-882-6840; visit weldcraft.com; e-mail customerservice.com or write to Weldcraft Customer Service, 2741 N. Roemer Road, Appleton, WI 54911.

Weldcraft is the world's leading manufacturer of GTAW (TIG) welding torches and accessories. A broad line of premium products includes the unique Crafter Series, WP Series, MicroTig(TM) and Quick Connect System(TM).


More from Machinery & Machining Tools