Weldcraft's Modular TIG Torch Package Increases Flexibility, Reduces Costs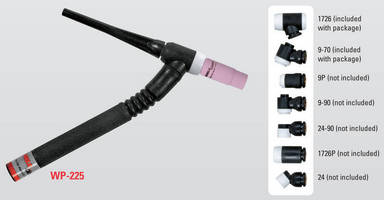 Offers excellent water-cooling capabilities

Saves time and money for torch changeovers

Reduces parts inventory

APPLETON, Wis. - To provide welding operators with the flexibility to weld on a variety of applications and angles without the cost or downtime to purchase or change torches, Weldcraft offers its WP-225 Modular Flex-Neck Torch Package. Designed for shop use on water-cooled applications, the WP-225 Modular Flex-Neck Torch Package allows welding operators to customize a single torch into multiple configurations and features interchangeable components that also help minimize parts inventory and lower its associated costs.

The WP-225 Modular Flex-Neck Torch Packages come standard with WP-9 and WP-17 series 70-degree heads (9-70 and 1726), a handle, and the choice of Vinyl, HD Vinyl or Braided Rubber power cable, water and gas hoses in 12.5- or 25-foot lengths. Optional torch heads for the torch include the 9-90, 9P, 24, 1726P and 24-90.

Using both the standard and optional torch heads, welding operators can configure the WP-225 Modular Flex-Neck Torch Package into seven different styles, while the easily adjustable flex-neck allows them to gain additional access to difficult welding angles. There is no need to change torches for different applications.

In addition, the WP-225 Modular Flex-Neck Torch offers excellent water-cooling capabilities that allow welding operators to achieve continuous performance with less concern of torch overheating. Weldcraft rates the torch at 160 to 225 amp DC and 115 to 160 amp AC at 100 percent duty cycle depending on the style of torch head used.

Weldcraft also offers its AK-225 MFC (Modular Flex Complete) Kit, which allows welding operators to customize the WP-225 Modular Flex-Neck Torch into an additional five torch styles. The AK-225MFC Kit includes collets, collet bodies, tungsten, alumina and lava nozzles, five torch heads (9-90, 9P, 24, 1726P & 24-90) to create these additional custom TIG torch configurations. All components are Genuine Weldcraft 10N, 13N and 24 Series front-end parts.

For more information, contact Weldcraft at 800-752-7620 or 920-882-6800; fax: 920-882-6840; visit weldcraft.com; e-mail customerservice.com or write to Weldcraft Customer Service, 2741 N. Roemer Road, Appleton, WI 54911.

Weldcraft is the world's leading manufacturer of GTAW (TIG) welding torches and accessories. A broad line of premium products includes the unique Crafter Series, WP Series, MicroTig(TM) and Quick Connect System(TM).

More from Adhesives & Sealants