Weld Purge Systems handle tube and pipe from 1-12 in.
Press Release Summary: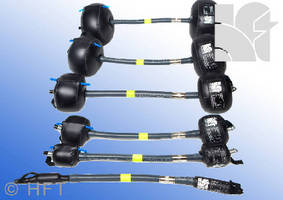 Available in 9 models covering internal diameters from 20-305 mm, PurgElite® Weld Purging Systems are equipped with low-profile purge gas release valve that purges chamber between 2 dams once they are inflated. Valve eliminates bust bladder problems as well as protruding metal parts that scratch insides of electro-polished tubes and pipes. Systems additionally include glow strip positioning band and synthetic gas hose that withstands temperatures up to 1,300°F.
---
Original Press Release:

Launch of New Tube and Pipe Weld Purge Systems(TM)



Having been manufacturing Tube and Pipe Weld Purging Systems since 1975 Huntingdon Fusion Techniques (HFT) has evolved the science of Weld Purging to new level.

Along with other recently announced scientific developments, the Company has now launched a further updated version of its Tube and Pipe Weld Purge System designs by releasing the PurgElite® series of Tube and Pipe Weld Purging systems for diameters from 1" to 12" (25 - 300 mm) inclusive.

This new range comprises 9 models from just under 1" to 12", each one overlapping the range of the other so that all internal diameters from 20 mm up to 305 mm are covered.

The new series has a number of major advantages over previous weld purging systems and has taken into account the evolving technology in all market places where much higher specifications of materials and work finish are available and expected.

The groundbreaking key feature is the development of a low profile purge gas release valve that is required to purge the chamber between the two dams once they are inflated.

This leads to the advantages mentioned above, namely:

1.0 The ability to manufacture a 1" system

2.0 Absence of protruding metal parts that scratch the insides of electro polished tubes and pipes

3.0 Elimination of the burst bladder problems that occur with other systems

4.0 Greater flexibility

5.0 Faster purging using less of the expensive inert purging gas

6.0 No complicated valve to set and no loss of time at the start up of jobs.

7.0 Lower manufacturing cost

Other features of the PurgElite® system include:

B. High Tech, high temperature resistant, synthetic gas hose

C. Glow strip positioning band

D. Ease of pulling around bends and elbows in complex systems

E. Selection of Low Vapour Pressure Materials

Low Profile Valve:

1" diameter tube and pipe weld purging:

For the first time it is possible to locally purge 1" diameter tube and pipe welds with an inflatable tube and pipe weld purging system, instead of having to fill up complete systems with expensive inert weld purging gas.

The PurgElite® 1" Tube Weld Purging System will be a valuable welding accessory to manufacturers of many stainless steel, Titanium and Nickel Alloy tubular systems.

Absence of protruding Metal Parts:

No scratching of expensive electro-polished tubes and pipes:

Manufacturers of High Purity Systems and those with some other applications, shown below, will use internally electro-polished tubes and pipes.

The absence of protruding metal parts with the PurgElite® system minimises the risk of scratching the insides of these valuable tube and pipework systems.

Scratches will cause the loss of corrosion resistance and may alter the flow characteristics inside a tubular system or line.

Elimination of burst bladder problems:

Other types of inflatable pipe purging systems have large valves that are often set incorrectly leading to frequent problems of burst bladders.

The new PurgElite® system completely overcomes that problem with a different type of system completely, for inflation and purging.

Greater Flexibility:

The PurgElite® system of Tube and Pipe weld purging systems, has eliminated the old style inflexible metal braided hose and substituted it for a new technology high temperature resistant, flexible gas hose to connect the two purge dams.

The greater flexibility of the systems gives operators the freedom to pull PurgElite® systems around tight bends and through complex tube and pipe fabrications.

Faster Weld Purging:

With the smaller volume, simple gas release valve that uses mathematically calculated designs, the purge gas will be released faster and in greater quantities permitting fast purging of the volume below the weld, without creating the turbulence and long purge times associated with other devices.

When used with one of the PurgEye® Weld Purge Monitors(TM) the PurgElite® systems provide the operator with the perfect combination to purge and monitor oxygen contact to achieve the fastest and most ideal conditions for welding to begin.

The savings made by using less of the expensive inert purging gas, along with the savings achieved with shorter purging time, will help to pay for these products in just one weld.

No complicated valve to set and no loss of time at the start up of jobs.

The specially designed PurgElite® valve system allows operators to use their systems immediately without having to follow complicated valve setting procedures. Such work causes loss of production time and invariably leads to errors and failed systems.

The PurgElite® systems are totally and simply plug and play. Plug in the inert gas supply and purge the weld, more than halving set up time.

Lower Manufacturing Cost:

The new low profile, mathematically designed PurgElite® gas purge valve is a single in line item that replaces a costly valve with elbow fittings and other connectors.

In addition, the high temperature resistant flexible connection hose replaces and expensive metal braided hose with costly fittings.

Summed together, these savings allow HFT to bring the PurgElite® range to the market place for lower costs than ever before.

High Temperature resistant hose:

The heat build up in the welding cavity is such that the gas hose connecting the two dams has to have a high temperature resistance.

PurgElite® weld purge systems have a newly developed synthetic material capable of withstanding a temperature of 700 º C (c 1,300ºF) that will withstand even hot metal dropping on it.

Replaceable Glo Strip band:

Once PurgElite® systems are inside a tube or pipe system, they can be pulled around from Joint to joint and positioned correctly and easily. This has been made possible by the fluorescent glo strip fitted to the centre of the purging system.

Welders can see through the pipe joint into the internal dark area, whether clamped or tacked ready for welding and view the purge system as it comes into place with the replaceable glo strip immediately below the weld.

The reduced manufacturing costs resulting from these ergonomic designs, means that the PurgElite® systems are brought to the market place with lower costs as well as significantly advanced designs.

Low Vapour Pressure Materials:

Employing latest material developments (HFT) has selected lower vapour pressure materials to ensure that the outgassing rate into the weld zone will be reduced to the barest minimum during welding to protect the molten weld pool from oxidation and the problems arising.

Applications:

High Purity:

Food, Diary, Pharmaceutical, beverages:

All of the above mentioned industries use vast volumes of small diameter stainless steel tubing where PurgEye® 100 Tube and Pipe Purging Systems will be valuable to help in providing optimum welding results when used in conjunction with the Company's PurgEye® range of Weld Purging Monitors.

Biochemical processes

Bioprocessing operations have continued to grow for 20 years controlling the risk of contamination.

This has pushed the demand for high-purity system design even beyond the boundaries of the pharmaceutical industry and has cascaded into industries that are typically unfamiliar with the need for system cleanability.

Amongst other applications, PurgElite® Tube and Pipe Weld Purging Systems are designed for pristine Tube and Pipe Purging, "Clean in Place" and "Steam in Place" techniques as well as the Bio applications.

If the proper steps are not taken throughout the process, a proliferation of unwanted bacteria can devastate colonies of the desired bacteria, ruining the process.

The only segments of this process that would require high-purity-piping design concepts are those that handle the enzymes.

PurgElite® Weld Purging Systems are particularly valuable for use in these emerging areas of High Purity Processes such as Bioethanol Processors and Biofuels Production.

Nuclear:

These new products from Huntingdon Fusion Techniques will be valuable for use with Nuclear Power Pipework particularly for repairing the inconel steam tubes in aging nuclear reactors that has been highlighted in the press recently following the problem in Japan and discoveries of potential leak areas in nuclear steam pipes elsewhere around the world.

In addition to their application in full size Nuclear Power Stations, the PurgElite® systems will be valuable in construction and repair of the massive volumes of small diameter tube and pipework in Nuclear Submarines and Nuclear Fuel re-processing facilities.

Semi Conductor:

Tubing and piping used throughout the semiconductor industry requires a degree of purity that is even higher even, than that required of the pharmaceutical, food-and-dairy industries

Semiconductor operations have a critical need to mitigate the potential for particulate contamination, which can be devastating to today's highly miniaturized electronic components.

Microscopic particles in semiconductor facilities, whether coming from equipment, tubing, or the various fluids used during the manufacture of silicon chips, can render the chip useless, or at the very least, out of specification.

So achieving acceptable, repeatable welds is a key element during the fabrication of high-purity piping systems.

These high-purity welds are accomplished most efficiently by means of a certified welding operator using an orbital welder and PurgElite® Tube and Pipe Purging Systems together with the PurgEye® range of Weld Purge Monitoring instruments.

In addition, there is a myriad of other applications where stainless steel, titanium and nickel alloys require weld purging to this high degree of quality including Offshore, Aerospace, Liquid Natural Gas and so on, where the PurgElite® Pipe Purging Systems will make a valuable contribution to saving time, saving gas and preventing errors, particularly when used in combination with the Company's Weld Purge Monitoring instruments, some of which that have data acquisition software for quality control procedures.

For larger diameters, Huntingdon Fusion Techniques Limited manufactures its rugged Argweld® Quick Purge® Systems to suit diameters from 8" to 80" (200 - 2000 mm).

Further information from rasewell@huntingdonfusion.com


More from Test & Measurement