Weld Purge Monitors has organic LED display.
Press Release Summary: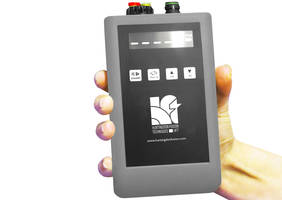 Linking with automatic welding machines such as orbital welders, Huntingdon Fusion's Hand Held Weld Purge Monitors® feature OLED (organic light emitting diode) displays. Presented in three models, PurgEye® 100, PurgEye® 200, and PurgEye® 300 or Nano, monitors can operate either on batteries or mains power. Suitable for indoor applications, device includes an integral pump for extracting samples from a weld purge zone.
---
Original Press Release:
Launch of New Weld Purge Monitors® at Fabtech 2016
Weld Purging Experts Huntingdon Fusion Techniques HFT® will have a major presence at Fabtech 2016 and will be displaying their entire range of weld purging products.
Georgia Gascoyne, CEO for HFT® said: "Fabtech 2016 will be the launch platform to demonstrate our updated range of PurgEye® Weld Purge Monitors®. We will be exhibiting at the show with our US Partner COB Industries and we are very excited to show the industry what innovative updates we have made to remain at the forefront of weld purging technology. Come and see us on Booth N7322."
"All our new Weld Purge Monitors® will be available to view at the show, as well as the world famous PurgEye® 100." Updates include OLED (organic light emitting diode) displays, which will give brighter, clearer and sharper readings for viewing at greater distances than before and at wider angles. These OLED displays are mainly symbol based not text based, which means menus are easily understandable no matter what language the user speaks.
This latest PurgEye® 200 will operate either on batteries or mains power. Charging can also be carried out from a dock (optional) and battery life will be much longer than its predecessor. Along with loud, pre-settable audio alarms for rising or falling oxygen levels, the PurgEye® 200 comes complete with a faster response long life sensor and language options.
The hand held PurgEye® 200 will feature for the first time PurgeNet™. This allows the addition of standard accessories that will allow the Weld Purge Monitor® to be linked with automatic welding machines such as orbital welders and other devices.
The PurgEye® 300 Nano will be a slightly smaller instrument, but the PurgEye® 300 will become the PurgEye® Nano Plus. Software for recording purge values against time is part of the package, with the monitor being able to control external devices such as warning lights and alarms, weld sets according to preset high and low oxygen levels.
The PurgEye® Site is a completely new addition to the range. It will be delivered encompassed in a new style robust, IP65 sealed case, which is virtually non-destructible and absolutely perfect for site conditions. Again, the unit is powered either by rechargeable battery or mains and the batteries are long life providing up to 10 hours of weld purge monitoring.
It has an integral pump so that it can be used to extract samples from a weld purge zone, where there is insufficient flow rate or positive pressure to activate the sensor correctly. The pump can be used to extract gas samples on a timed basis if required. All accessories fit inside the case and there is a carry handle on top of the lid.
The PurgEye® 500 will be renamed the PurgEye® Desk and it will be suitable for indoor applications. The new style instrument is in a smaller case and it will also have PurgeNet™ for attaching the accessories.
The computer controlled Weld Purging Instrument known as the PurgEye® 600 will also win the PurgeNet™ update and will have a smaller instrument case.
Finally, the PurgEye® 1000 Remote Weld Purge Monitor® will adopt all the new features but the key development is the size of the remote sensing head. This is now manufactured from brushed stainless steel and is considerably smaller so that it can be used in pipe diameters as small as 1", possibly in conjunction with the 1" PurgElite®, the smallest tandem weld purging system in the world.
For more information, please visit www.huntingdonfusion.com, call +44 1554 836836 or stop by Booth N7322.
For further information, please contact:
Michaela Reay, Marketing Associate,
Huntingdon Fusion Techniques HFT®
+44 1554 836836 (office)
Press: michaelareay@huntingdonfusion.com
Sales: hft@huntingdonfusion.com
More from Agricultural & Farming Products