Weld Head suits limited-clearance applications.
Press Release Summary: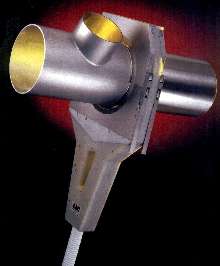 Orbital Model 8 Series, for fusion TIG applications, welds tube and thin-wall pipe from 0.25-6.625 in. OD. When connected to cooling unit, all components are liquid cooled, including cables, clamp housings, and electrode rotor. Narrow width of head makes it suitable for applications such as welding fitting-to-fitting or fitting-to-valve body assemblies, and welding materials such as stainless steel, titanium, and Hatelloy(TM).
---
Original Press Release:

Interphex 2003 - Model 8 Narrow Weld Head Series


The Model 8 Series Weld Heads are orbital weld heads for fusion TIG (GTAW) welding of fittings, tubing and thin wall pipe. The narrow width of these heads makes them ideal for limited clearance applications, such as welding fitting-to-fitting or fitting-to-valve body assemblies and welding materials such as stainless steel, titanium, Hastelloy(TM) and other autogenously weldable alloys. This orbital tube weld head series is able to weld tube or pipe sizes 0.25" O.D. to 6.625" O.D.

A key feature of the Model 8 Series Weld Heads is its unique cooling design, allowing high duty-cycle welding. When connected to an AMI cooling unit, all components of this weld head are liquid-cooled, including cables, clamp housings and electrode rotor (patent pending). A variety of clamps are available to perfectly suit every welding application.

This model is ideal for pharmaceutical and biomedical installations as well as food, dairy, beverage industries and fabrication shops. We invite you to visit us at Interphex 2003 in Booth #1052 and go to our web site for additional information: www.arcmachines.com

Email us at sales@arcmachines.com

For more information, please contact:
Sue Gilbert
Advertising and Marketing Manager
Arc Machines, Inc.
10500 Orbital Way
Pacoima, CA 91343
(818) 896-9556
(818) 890-3724
marketing@arcmachines.com

More from Computer Hardware & Peripherals