Weld Gas Analysers Maximise Weld Quality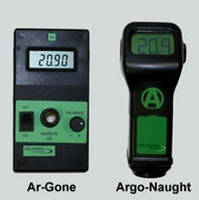 Take the guesswork out of weld purging and improve purge and weld quality by using one of our weld gas analysers!

Weldwide Solutions Limited offer 2 models of weld gas analysers which will both accurately and reliably measure the oxygen content in the purge environment. This will give the welder complete confidence that the optimum conditions for the stainless weld have been reached without any guess work and without wasting gas and time "just to be on the safe side". Furthermore, a weld gas analyser will immediately indicate whether unwanted oxygen penetration occurs during welding and will therefore eliminate weld oxidation and costly repairs and considerably improve weld quality.

The Ar-Gone WGA is a well-known model in the industry and provides accurate measurements down to 0.01 % oxygen, easy handling and long lasting performance.

The Argo-Naught WGA is a new design exclusive to Weldwide Solutions which is already becoming the trusted partner of many fabricators. It gives precise measurements down to 0.1 % oxygen and combines exceptional stability, easy push-in sensor change and air- and water-tight casing to provide a user friendly, easy to use, reliable oxygen monitor for weld purging.

Both models are manufactured in ISO accredited facilities and guarantee high quality at affordable prices. Very reasonably priced spare parts and replacement sensors are available from Weldwide Solutions and we also offer extremely competitive calibration and sensor replacement packages for our own and similar weld gas analyser models.

For more information please look on our website
http://www.weldwidesolutions.com/products_weldgas_analyser.html or call or email us.

More from Controls & Controllers