Weld Control connects to submerged-arc power sources.
Press Release Summary: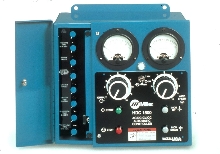 HDC(High Deposition Controller) 1500 automatic weld control interfaces with AC or DC constant currents or constant-voltage power sources having remote contactor and output control. Unit offers true crater condition, burnback, and independent run-in and jog speed control. Five HDC 1500 packages include choice of power source, shunt control, cable kit, RAD wire drive assembly, wire straightener, flux hopper, and OBT torch. It uses AC square-wave technology.
---
Original Press Release:
Miller's New HDC 1500 Automatic Weld Control Connects To Any Submerged-Arc Power Source
* Standardize on a single controller for all applications * True crater condition control may eliminate run-off tabs * Order complete HDC 1500 sub-arc packages with one product number APPLETON, Wis., February 25, 2002 -Miller Electric Mfg. Co., the company that introduced the first submerged arc welding (SAW) innovation in decades with its variable balance AC squarewave technology, now introduces the HDC 1500 automatic weld control. The HDC 1500 (High Deposition Controller) can interface with any AC or DC constant current or constant voltage power source having remote contactor and output control. By mid-2002, a shunt control will enable integration with any competitive power source. "The HDC 1500 enables customers to save money by standardizing on a single controller for all SAW power sources. Competitive equipment requires different models for different outputs, which is a common hassle in tandem- and multiple-arc applications," said Ken Fisher, manager of high deposition processes, Miller Electric Mfg. Co. "The HDC 1500 also offers true crater condition control, burnback control and independent run-in and jog speed control." An access door protects the controls while allowing easy access when fine tuning the weld sequence. True Control True crater condition control enables the operator to adjust crater output (voltage), crater speed (amperage) and crater time. "You need to control all variables to create a true crater condition," said Fisher. "Some competitive units just control time. Slowing torch movement and holding the arc at the same welding condition just burns a bigger hole, which is why users need an 8- to 10-in. run-off tab. The HDC 1500 can reduce tab length - or possibly eliminate the need for a tab - on any longitudinal seam." Miller offers five complete HDC 1500 packages that can be ordered with a single product number. Each package includes a choice of power source, shunt control (for use with competitive equipment), cable kit, RAD wire drive assembly, wire straightener, flux hopper and OBT torch. Power source options include the Summit Arc 1000 (an AC/DC, CC/CV power source) with 650- or 1,200-amp torch, Dimension(TM) 1000 or Dimension 652 (AC/DC, CV power sources) and the Deltaweld® 652 (a DC, CV power source). "Whether a customer wants to buy all new equipment, replace existing equipment or mix-and-match old and new components, Miller Electric now delivers a complete solution for their sub-arc welding needs," said Fisher. Noting that a single supplier dominated the industry for years, he adds that, "Manufacturers that sub-arc weld finally have an innovative and alternative supplier." Summit Arc Innovation The Summit Arc 1000 features Miller's breakthrough variable balance AC squarewave output technology. This patented technology overcomes the traditional problems or limitations of submerged arc welding with all other processes, including DC electrode positive (DCEP), DC electrode negative (DCEN) and traditional AC. Proven benefits of variable balance AC squarewave technology include: * A guaranteed deposition increase over single wire, DCEP butt welds; increases up to 59 percent may be possible * Travel speeds up to 65 in./min. with a 1/8-in. wire; this exceeds tandem arc speeds without the hassle or cost of two power sources * Smaller included angles that lower filler metal use by up to 42 percent * Reduced heat input for minimized warping and base metal dilution * Simpler multiple AC torch configurations by offsetting the cycle of the variable balance AC squarewave by 60 degrees between torches * Substantially lower power consumption and lower hookup costs because the power source uses three-phase primary power, not single-phase power The HDC 1500 is covered by Miller's True Blue® three-year parts and labor factory warranty. To purchase the HDC 1500 on-line or to download a product spec sheet, visit Miller's website at www.MillerWelds.com. Only Miller combines the convenience of on-line shopping with the expertise of a local distributor for sales and service. For more information or the Miller distributor nearest you, call 1-800-4-A-MILLER (800-426-4553), fax 877-327-8132, visit the website or write to Miller Electric Mfg. Co., P.O. Box 100, Lithonia, GA 30058. Headquartered in Appleton, Wis., Miller is a leading worldwide manufacturer of arc welding equipment and related systems for metalworking, construction, maintenance and other applications. Miller Electric Mfg. Co. is a wholly owned subsidiary of Illinois Tool Works, Inc. (ITW), Glenview, Ill. ITW is a diversified multinational manufacturer of highly engineered components, assemblies and systems.
More from Cleaning Products & Equipment