Weld Cleaning System offers non-toxic alternative.
Press Release Summary: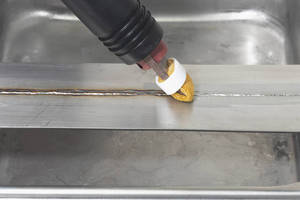 Able to clean stainless steel at rates from 3-6 fpm without toxic pickling pastes, SURFOX employs conductive application pad that simultaneously cleans and passivates parts. System produces flawless finish on stainless steel and mirror-like finish on chrome. It offers controlled dispersion of cleaning fluid and supports Surfox H and T electrolyte cleaning solutions for standard and heavy-duty jobs. Passivation tester, stainless steel grade ID tester, and marking kits are included.
---
Original Press Release:
Walter Surface Technologies Improves Weld Cleaning with Non-toxic Alternative.
SURFOX electro-cleaning system replaces hazardous pickling pastes Montreal, QC - WALTER SURFACE TECHNOLOGIES is pleased to announce the arrival of new components to the SURFOX weld electro-cleaning system. This latest innovation from the company underscores Walter's commitment to "Making Green Work". The new Surfox system is just one more solution that helps create a cleaner, healthier, and safer industrial work environment. Traditional weld cleaning methods are highly toxic, wasteful and inefficient While welding stainless steel often leaves heat discoloration (blueing) on the finished surface, metal fabricators are facing an increased demand for stainless steel that has a clean, fully passivated surface - for a wide range of industries such as food and beverage, pharmaceutical, architectural and transportation. To satisfy customer demand, metal workers must remove these discolorations. But the traditional cleaning methods that use pickling paste or grinding machines have high environmental impact and labor costs. Grinding is not only time-consuming and labor intensive, but mechanical heat discoloration removal fails to provide a clean, aesthetic finish. Cleaning heat discoloration with pickling paste is the most common chemical method, but the pastes can be difficult to apply evenly, so the worker risks using more than necessary or insufficient amount of paste in some areas. More importantly, though, pickling pastes are dangerous. Not only are they known carcinogens, but these extremely acidic compounds cause severe chemical burns when in contact with skin; workers must be covered from head to toe in acid-resistant overalls, gloves, and ventilation masks. Finally, the heavy metals in the pastes must be separated from the cleaning residue prior to waste disposal, adding another step to the overall production process. Surfox: the Walter alternative Walter's Surfox system cleans stainless steel without toxic pickling pastes, saves time for workers, and is easy to use. In a typical application, the worker fills the cleaning unit with an electrolyte cleaning solution. When switched on, the unit pumps the solution through an application pad, which simultaneously cleans and passivates the part. After the electro-cleaning process, the worker applies a neutralizing fluid to remove acid deposits. The improved Surfox system features a new application pad, which is four times more conductive than the previous one, and can clean surfaces at rates of three to six feet per minute. The controlled dispersion of the cleaning fluid also prevents waste. The result is a flawless finish on stainless steel - with Surfox, even a mirror-like finish on chrome is possible. The Surfox system's new components include:
Surfox H - the standard electrolyte cleaning solution for regular use cleans up to 3 to 6 feet per minute.
Surfox T - the electrolyte cleaning solution for heavy-duty jobs has a higher pH than Surfox H and cleans up to 3 to 6 feet per minute.
New application pads for all cleaning units have increased conductivity. With this practical cleaning method, results are visible almost immediately.
Passivation tester provides numeric values of state of passive layer
Stainless steel grade ID tester allows customers to instantly identify the grade of stainless steel
Marking kits electrochemical process to permanently mark stainless steel surfaces (for barcodes, serial numbers, lot and batch numbers, text, company logos, etc.) Metal fabricators who use the Surfox system save time and money, improve working conditions, and reduce their environmental impact. In fact, 70% of new customers abandon traditional methods in favor of Surfox. Surfox system is NSF certified for use in the food industry and ASTM-A967 / ASTM-A380 certified for chemical passivation on stainless steel. About Walter Surface Technologies
Walter Surface Technologies a privately held company with its US headquarters in Windsor, Connecticut has been a leader in surface treatment technologies for nearly 60 years, and has been providing high productivity abrasives, power tools, tooling, chemical tools and environmental solutions for the metal working industry. Founded in Montreal in 1952, Walter Surface Technologies is now established in 7 countries in North America, South America and Europe. For additional information: www.walter.com
Related