Weighing Systems standardize batching, filling operations.
Press Release Summary: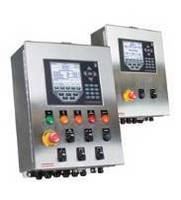 Pre-engineered and pre-programmed for common weighing tasks in manufacturing, 920i FlexWeigh Systems incorporate 920i Indicator/Controller that allows customization and programming options for industry needs. There are 9 standard models for 4 different kinds of use: single-ingredient fillers (101 and 102); loss-in-weight fillers (103 and 104); NTEP-approved bulkweighing fillers (107, 108, and 109); and multi-ingredient batchers (201 and 202). Each has stainless steel NEMA-4X enclosure.
---
Original Press Release:

920i® FlexWeigh Systems from Rice Lake Standardize Batching and Filling Operations



The upgrade to FlexWeigh's DWM-IV Series combines more power and flexibility to a time-tested industry workhorse



Rice Lake, WI:  In 2009, Rice Lake Weighing Systems acquired the FlexWeigh Division of Enduro Systems located in Santa Rosa, California. Since that time Rice Lake has been busy supporting the brand's existing product lines and engineering a new generation of the popular FlexWeigh DWM-IV.



As FlexWeigh's replacement for the DWM-IV Series, Rice Lake's 920i FlexWeigh Systems are pre-engineered and pre-programmed for many of manufacturing's most common weighing tasks. With the upgrade, Rice Lake adds their 920i Indicator/Controller which allows more customization and programming options for modern industry needs.



Rice Lake's 920i FlexWeigh Systems are available in nine standard models for four different kinds of use: single-ingredient fillers (101 and 102), loss-in-weight fillers (103 and 104), NTEP-approved bulkweighing fillers (107, 108, and 109), and multi-ingredient batchers (201 and 202).



Each 920i FlexWeigh model is a standard design in its own right, factory tested and built for the job at hand, yet customizable enough to let manufacturers adjust as needed. Stainless steel NEMA-4X enclosures and rugged, customizable operation switches guarantee FlexWeigh's reputation for industrial-strength dependability, value and performance. Visit www.ricelake.com/920iFlexWeigh to learn more.



Rice Lake Weighing Systems is a family-owned, ISO 9001 certified corporation based in the United States. Headquarters, metrology laboratory and main manufacturing plant are located in Rice Lake, Wisconsin with support facilities throughout the world including North America, South America, India and the Netherlands.



Jessica de la Cruz

Copywriter/PR



Rice Lake Weighing Systems

230 W Coleman St. Rice Lake, WI 54868

United States - Phone: 715-434-5364 - Fax: 715-234-6967

www.RiceLake.com   -   Mobile: m.RiceLake.com

More from Mechanical Power Transmission