Weighing Bottles minimize tare weight requirements.
Press Release Summary: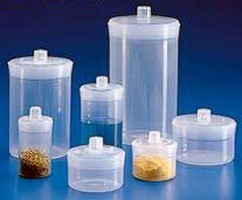 Supplied with airtight, push-on lids, Kartell Weighing Bottles are autoclavable and reusable translucent products that help reduce tare weight correction requirements. Tops can be squeezed to assist pouring, and there are no internal shoulders. Resistant to acid attack, bottles (codes 6115-0001 through -0007) come in sizes ranging from 20-360 ml with ODs from 30-70 m and heights from 29-118 mm. Tare weights range from 8-40 g.
---
Original Press Release:

Introducing a New Line of Kartell Weighing Bottles



Supplied with airtight push on lids

Reduce the tare weight correction
Light weight
Autoclavable
Reusable translucent bottles
Airtight push on lids included
Highly resistant to acid attack
No internal shoulders to avoid use of spatulas
Tops can be squeezed to assist pouring
Remove lid before autoclaving

Code      ml   O.D. mm    Height mm   Tare g 

6115-0002   23   30       48       8 

6115-0001   20   40       29       8 

6115-0005   60   40       69       14 

6115-0003   30   49       29       10 

6115-0004   50   59       34       18

6115-0006   190   59       88       28 

6115-0007   360   70       118      40

Christine Leskovar
Customer Marketing Manager
Dynalab Corp.
Tel 585.334.2060 x112
Fax 585.334.0241
christine@dyna-labware.com
www.dynalabcorp.com

More from Health, Medical, & Dental Supplies and Equipment