Weigh Belt Module inserts into conveyor transition space.
Press Release Summary: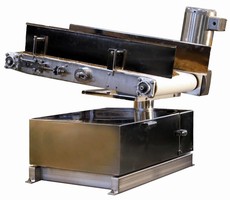 Available in scale over or scale under design, Weigh Belt Feeder Series SI Insertion Weigh Belt Module features short support framework and 12, 18, or 24 in. wide, 24 in. long V-Guided conveyor. Conveyor portion can be oriented on C-Frame to convey horizontally or downward up to 20°. Model 15L precision flexure plate suspension scale provides mass counterbalancing of conveyor dead load, and can withstand overloads in excess of 1,000 lb.
---
Original Press Release:

Thayer Scale Introduces Insertion Weigh Belt Module



Designed to Easily Fit
Into Existing Belt or Vibratory Conveyor Line

PEMBROKE, MA -- Thayer Scale's Weigh Belt Feeder Series "SI" Insertion Weigh Belt Module is a unique feeder that has been designed to easily fit into an existing belt or vibratory conveyor line.

The "SI" comes in either "scale over" or "scale under" design. A short support framework and a 24" long "V-Guided" conveyor (12", 18" and 24" wide) makes this the only practical weighing module for insertion into a transition space between existing conveyors or equipment.

The SI Insertion Weigher uses Thayer Scale's patented model 15L precision flexure plate suspension scale with FMSS technology. The scale provides for complete mass counterbalancing of the dead load of the conveyor permitting the load sensor to react only to the net material load. This unique system is not affected by dirt, shocks or vibration, and can withstand overloads in access of 1,000 pounds without causing damage or affecting calibration. The highly advanced and extremely robust sensing technology is based on the marriage of the LVDT, embedded temperature sensing and properly linerizing and temperature compensation algorithms.

Unique benefits result from suspending a short "V-Guided" conveyor from the Thayer model 15L Force Measurement Suspension System (15L-FMSS). Since load measurements are not affected by the physical characteristics of the belting and its supporting means (stiffness, sliding friction, non-uniformity, splice effects tension/misalignment interaction, etc.) the construction of the belting and its material can be chosen on the basis of durability and belt-tracking ability without concern for accuracy compromise. Also, on new installations, the combination of the most suitable volumetric pre-feeder and the Series SI often proves the best approach considering cost, available space, and materials handling requirements.

The conveyor portion is normally 24" long and is suspended from the scale on an open cantilevered "C-Frame" pipe support, which greatly simplifies belt removal and replacement for wash down applications. Belt widths of 12", 18" and 24" are available. Because the belting is more robust than that used for "under-the-belt" load sensing feeders, and because the belt is positively tracked using a V-Guided tracking system, the operating life of the belt is substantially longer than with conventional designs. The conveyor portion can be oriented on the C-Frame to convey horizontally, upwards (20 degrees) or downward (20 degrees),

in whatever configuration best suits the installation conditions. The combination
of gear reducer/motor is supplied for wash down service, and is available in either constant or variable speed applications.

The "SI" Series can be supplied with Thayer instrumentation and controls to function as either a process stream weigher only, or as a flow stream controller/weigher (providing the additional controller output to regulate the upstream delivery system. Thayer's patented "SLC" (scale location compensation) features can also be supplied to move the point of measurement further downstream adjacent to associated or "slaved" equipment.

Founded in 1949, Thayer Scale is a pioneering developer of continuous weighing and feeding equipment for the dry solids conveying and processing industries. Thayer's Belt Scales and Weigh Feeders of both the Weigh Belt and Loss-in-Weight types, cover an extremely wide range of applications in virtually all industries that involve dry solids conveying and processing. From Loss-In-Weight Feeders that feed vitamins into cereals at rates below 1 pound per hour to 6-Idler Conveyor Scales weighing coal at rates up to 10,000 tons per hour, there are more than 100 proven product variations available to suit most application requirements.

Thayer Scale enjoys a unique reputation as a supplier of equipment that provides the rare combination of measurement precision and extreme robustness. Equipment installed more than 40 years ago continues to operate reliably and accurately.

For more information, contact Thayer Scale-Hyer Industries, Inc. at 91 Schoosett St., Pembroke, MA 02359; telephone, 781-826-8101; fax, 781-826-7944; or visit the company's website at www.ThayerScale.com.


Related