Weigh Batching System eliminates dust during dumping.
Press Release Summary: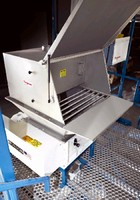 Equipped with high-velocity vacuum fan that draws airborne dust from operator's atmosphere onto 2 cartridge filters, Manual Dump to Rigid Bin Weigh Batching System de-lumps material and feeds it gravimetrically from mezzanine level into rigid bins placed on floor scale. Automatic reverse-pulse filter cleaning allows continuous operation, while timer-activated solenoid valves release short blasts of compressed plant air inside filters, causing dust build-up to fall into hopper.
---
Original Press Release:

Manual Dump To Rigid Bin Weigh Batching System



BETHLEHEM, PA-A new Manual Dump to Rigid Bin Weigh Batching System eliminates dust during manual dumping from bags, boxes, drums and other containers, de-lumps the material, and feeds it gravimetrically from mezzanine level into rigid bins placed on a floor scale.

The Manual Dumping Station features a high-velocity vacuum fan that draws airborne dust from the operator's atmosphere onto two cartridge filters. Automatic reverse-pulse filter cleaning allows continuous, efficient operation; timer-activated solenoid valves release short blasts of compressed plant air inside cartridge filters causing dust build-up on the outer filter surfaces to fall into the hopper.

Filters are accessed easily by removing the interior baffle, and replaced rapidly using quick-disconnect fittings.

The Manual Dumping Station's surge hopper discharges into a Low-Profile, De-Lumping Device with dual rotors and three-point heads that break up agglomerates that have formed in the bag. On-size material is discharged into a Gravimetric Feeder that is connected via PLC to a scale on the plant floor, allowing accurate batch weights to be loaded into rigid totes placed on the scale.

Multiple Manual Dump to Rigid Bin Weigh Batching Systems can be utilized to batch multiple ingredients into individual bins for storage and/or blending elsewhere in the plant.

All material contact surfaces of the Manual Dumping Station, De-Lumping Device and Gravimetric Feeder are of stainless steel finished to sanitary standards.

Other equipment manufactured by the company includes pneumatic conveying systems, flexible screw conveyors, bulk bag unloaders, bulk bag fillers, bulk bag conditioners, lift-and-seal drum dumpers, integrated weigh batching systems and engineered plant-wide bulk handling systems with automated controls.

For information contact Flexicon Corporation, 2400 Emrick Blvd., Bethlehem, PA
18020-8006, 1-888-353-9426, sales@flexicon.com, www.flexicon.com

More from Communication Systems & Equipment