WEG Presents New Geared Motor Product Line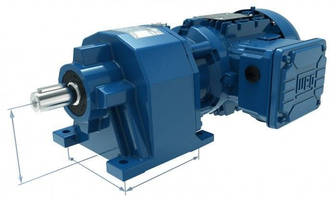 WEG presents the new WG20 geared motor product line, which boasts worldwide interchangeability along with extremely high efficiency and reliability, at this year's Hannover Messe.



WEG, a leading global vendor of drive technology, is presenting the new WG20 geared motor product line at Hannover Messe 2016. It includes helical, parallel-shaft and helical bevel gear units with rugged pressure-cast aluminium housings and torque ratings from 50 to 600 Nm. The geared motors are available in energy efficiency class up to IE3 and have standardised mounting dimensions, making them readily interchangeable. Thanks to smart geared design and extremely high machining quality, users benefit from precise power transfer, high efficiency and reduced noise and temperature levels. Austria-based Watt Drive, WEG's subsidiary and gear technology specialist, developed the new gear units in close cooperation with WEG's main plant in Brazil.



The standardised mounting dimensions of the WG20 geared motors make them ideal for use in both new and existing systems worldwide. WEG's modular gearbox motors also cover virtually all supply voltages worldwide thanks to internal voltage switching, making them easily interchangeable. In addition, the motors are especially efficient thanks to two-stage gear units covering a large range of gear reduction ratios and low power dissipation, which also results in lower housing surface temperatures. Precision machining and toothing ensure low-loss power transfer and low noise levels, along with very smooth running and extended service life.



During the Hannover Messe trade fair on 25-29 April, visitors can learn more about the new geared motor product line at WEG's stand (Hall 15, Stand F11). Additional highlights at the stand include the new explosion-proof W22Xe motors for increased-safety applications compliant with IEC 60079-7:2015 and the CWB series of contactors for nominal operating currents up to 80 A.



More from Chemicals & Gases