Weekend Getaway Turns into a Carbon Monoxide Nightmare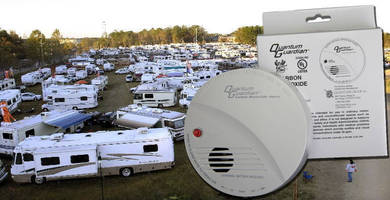 Alison Morgan spent about a month in UAB Hospital after a taking a weekend RV trip to the hayfields of Auburn for the Saturday's Iron Ball.



On Friday of Talladega 500 weekend Alison, 38 yrs. old, went to sleep with her husband in an RV and woke up 10 days later in the Birmingham hospital.



Her husband, Craig, 46 yrs. old, never woke up. He died that racing weekend, Saturday, Oct. 19, from carbon monoxide poisoning, the same thing that nearly killed Alison. It is believed to have come from a leaking RV generator exhaust system.



Alison Morgan survived miraculously and she attributes it to a heroic last minute decision by doctors to try something different as her organs failed, and she slipped closer to death. Dr. Enrique Diaz hooked Alison up to an extracorporeal membrane oxygenation (ECMO) machine that gave her organs a rest, allowing them to recover while the carbon monoxide is removed from the blood. ECMO provided oxygen and blood flow and it worked.



Alison woke up and went back home to her 4-year-old daughter Carly who after losing her father needs her mom now more than ever. She hopes her experience will draw awareness to safety regarding carbon monoxide, often called the silent killer (Please review the RV carbon monoxide safety tips below). She also hopes that the awareness will help other critical victims of carbon monoxide poisoning get helped with the kind of treatment that helped her.



CO poisoning is conventionally treated by breathing in pure oxygen. This treatment increases oxygen levels in the blood and helps remove CO from the blood. Sometimes the patients placed into a pressurized oxygen chamber (also known as a hyperbaric oxygen chamber).



One of the major concerns following acute carbon monoxide poisoning is the severe delayed neurological manifestations that may occur in up to 50% of poisoned people after 2 to 40 days.



Carbon monoxide poisoning is still the leading cause of accidental deaths in America. To prevent carbon monoxide poisoning American Ventilation Control Systems recommends a RV certified Quantum Guardian® Carbon Monoxide Detector (CO Alarm) designed specifically for RV or residential use. Quantum Guardian® is an equivalent to COSTAR® Model 9RV. To purchase Quantum Guardian® Carbon Monoxide RV Detector go to www.costar24vce.com or learn more about other products we offer at www.avcsystems.us



RV Safety Tips

• Always have a RV certified carbon monoxide detector installed to warn you in case there is carbon monoxide present.

• Make sure the detector is less than 6 years old.

• Test your detector's alarm signal with a test button.

• Make sure your detector has working batteries.

• Inspect your RV's chassis and generator exhaust system regularly.

• Inspect the RV for openings in the floor and sidewalls (seal any holes with silicone adhesive or have it repaired before using your generator again).

• Inspect windows, door seals, and weather strips for effective seal

• Yellow flames in propane-burning appliances (coach heaters, stoves, ovens, water heaters, etc.) indicate a lack of oxygen. Determine the cause and correct it immediately.

• Never operate your generator if the exhaust system is damaged in any way.

• Do not park next to high grass or weeds, buildings, or other obstructions. Park your RV so that the exhaust can easily dissipate away from the vehicle.

• Be aware that shifting winds can cause exhaust to blow away from the coach at one moment, but under the coach in the next moment.

• Be aware of other vehicles around you that may have engines, refrigerators, or generators running. If you are parked for a long time carbon monoxide can enter your RV from a different vehicle.

• Never sleep with the generator operating.

• Leave a roof vent open any time the generator is running (even during winter).

• If you do not feel well, shut off the generator and step outside for fresh air. Many of carbon monoxide poisoning cases go misdiagnosed because the symptoms are very similar to regular flu.

• Have your built-in vacuum cleaner inspected to ensure that it does not exhaust on the underside of your RV.

• Park at "no generator" zone at RV events you attend.



More from Electrical Equipment & Systems