WEEE Labels mark electrical and rlectronic equipment.
Press Release Summary: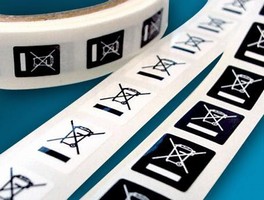 Engineered to meet graphical and endurance requirements of WEEE directive, RoHS-compliant Wheeled Bin Labels are made from polyester and feature permanent adhesive and UV overlaminate. Products, offered in rolls of 500, come in 2 standard colors and sizes or can be custom-made to client specifications. Custom WEEE labels can also include versions where WEEE symbol of crossed out wheelie bin is integrated with other product labeling.
---
Original Press Release:

LGInternational Launches WEEE Labels for Marking of Electrical and Electronic Equipment



Portland, OR, June 28, 2006 - LGInternational, manufacturer of advanced labeling solutions, has launched a line of WEEE labels for marking of electrical and electronic equipment (EEE). The WEEE labels can be ordered in two standard colors and sizes or custom WEEE labels can be produced based on client specifications.

LGI's Wheeled Bin Labels are RoHS compliant and specifically engineered to meet the graphical and endurance requirements of the WEEE directive. LGI's WEEE labels are made from durable polyester with a permanent adhesive and a UV overlaminate ensuring that the label will last the life of EEE products. Labels are supplied in rolls of 500 and can be ordered in quantities of 500 or 5000. LGI also produces custom WEEE labels, including labels where the WEEE symbol (crossed out wheelie bin) is integrated with other product labeling.

To order WEEE labels go to www.lgintl.com/RoHS-WEEE-labels.htm or call 1-800-345-0534.

WEEE Directive
The Waste Electrical and Electronic Equipment (WEEE) directive (2002/96/EC) is intended to promote recycling of electrical and electronic equipment and their components at end of life. The WEEE directive:
o Applies to all those involved in manufacturing, selling, distributing, recycling or treating electrical and electronic equipment in the EU.
o Mandates a number of recycling procedures, lays out responsibilities, and sets a series of recycling and waste treatment goals.
o Requires that all products be marked with the "wheelie bin" symbol to indicate that they may not be discarded for curbside pick up.

About LGInternational
LGInternational develops advanced labeling solutions for the most demanding markets, including semiconductor, storage media, life sciences, and electronics. Established in 1978, LGI's products are used by companies throughout the world for applications such as product identification and decoration, product assembly, product packaging and security. A strong commitment to research and innovation, uniquely positions LGI to contribute to the quality and profitability of its customers through the discovery of new and better ways of using materials and technology to solve tough problems. For more information, call 1-800-345-0534 or visit www.lgintl.com.

Jean Roque
Marketing, LGInternational
www.lgintl.com
503-620-0520

LGInternational
6700 SW Bradbury Court
Portland OR 97224
Phone 800 345 0534
Fax 503 620 3296

More from Electronic Components & Devices