Wedge-Based LEDs increase visibility for annunciators.
Press Release Summary: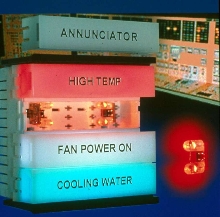 Available in single- and dual-LED configurations, 5mm (T1-¾) Right-Angled WedgeLED® Annunciator LED Lamps illuminate backlit annunciators to facilitate viewing. Solid-state design is impervious to shock, vibration, frequent switching, and environmental extremes. Offered in Super Red (630 nm), Super Orange (610 nm), Super Pure Yellow (590 nm), Super Green (525 nm), Pure Blue (470 nm), and Cool White (8,000 K), LEDs have standard voltage of 28 V.
---
Original Press Release:

New 5mm Wedge Based LEDs Punch up Visibility and Add Reliability to Annunciators


TORRANCE, CA - August 20, 2004 - LEDtronics® announces new 5mm (T1-¾) Right-Angled WedgeLED® Annunciator LED Lamps that provide bright and bold illumination for backlit annunciators to facilitate viewing. Solid-state circuits and sturdy wedge bases make annunciator LEDs resistant to the stresses generated by automated machinery and heavy equipment. The results? Annunciator illumination you can depend on day-in-day-out, year after year. These LEDs replace the following incandescent lamps at their respective voltages: 5V: 56, 79, 84, 86; 12/14V: 18, 37, 73, 74; 24/28V: 17, 85.

Annunciator LEDs come in one-LED and two-LED configurations. Colors available are Super Red (630nm), Super Orange (610nm), Super Pure Yellow (590nm), Super Green (525nm), Pure Blue (470nm) and Cool White (8000K). Standard voltage is 28 volts. Bi-colored LED versions and other voltages are available as options. Annunciator LEDs eliminate many of the shortcomings of incandescent lamps such as filament failures, frequent maintenance and excessive heat. Due to their low operating temperatures, LEDs can be used continuously without the concerns that accompany heat-generating incandescent lamps. In addition to annunciator applications, 5mm (T1-¾) Right-Angled WedgeLED LEDs may be used in zone alarms, emergency interfaces and status indicators for critical processes in nuclear power plants, waste treatment facilities, utilities, etc. ...

Solid-state design renders LEDs impervious to shock, vibration, frequent switching and environmental extremes. With an average life span of 100,000-plus hours (11 years), LEDs operate more than 20 times longer than the equivalent incandescent lamp! Savings from reduced maintenance costs and downtime quickly return the capital investment expenditure. LED lamps produce almost no heat and require 80% - 90% less operating power than equivalent incandescents, making them as friendly to the environment as they are to the operating budget.

Founded in 1983, LEDtronics® leads where others only follow when it comes to designing, manufacturing and packaging state-of-the-art LEDs to meet the world's constantly changing lighting needs. Our inventive product line encompasses an array of direct incandescent lamp replacement Based LEDs, low-cost snap-in and relampable Panel Mount LEDs, high-intensity sunlight-visible Discrete LEDs, PCB LEDs circuit board status indicators, surface mount diodes SMT LEDs, full-spectrum rainbow RGB LEDs and Infra-Red (IR) LEDs.

Prices for 5mm (T1-¾) Right-Angled WedgeLED LED Lamps for annunciators range from $9.50 -$19.50 each, depending on LED technology and color. Large quantity discounts are available. Availability is stock to 4 - 6 weeks for special requirements. They carry a three-year limited warranty. For additional information on how to incorporate LEDs into your product designs, contact LEDtronics toll free at 1-800-579-4875, telephone 310-534-1505, fax at 310-534-1424, e-mail at webmaster@ledtronics.com or mail at LEDtronics Inc., 23105 Kashiwa Court, Torrance, CA 90505. Ask for data sheet log 157. Visit our website at ledtronics.com.

Read the datasheet online at URL: ledtronics.com/ds/WR202/

More from Agricultural & Farming Products