Webster High Efficiency JBS Burners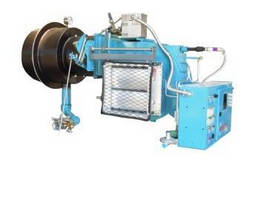 Winfield, Kansas – Webster Engineering announces the shipment of another high efficiency JBS burner for boiler applications.  This unit is rated at 200 HP and is equipped with linkage controls, high efficiency louver box and high swirl combustion head giving you 12:1 turndown.  The Webster JBS will save fuel and reduce emission levels in comparison to your existing equipment.  For those who need smaller output and high efficiency.



The JBS burner series ranges from 40 HP to 400 HP is available with linkage or linkageless controls.  JBS burners also operate with low excess air and offer the flexibility to operate on a wide variety of gas or liquid fuels. Available for low NOx applications.  Webster's patented TEMP A TRIM combustion air density control can be added for additional operational efficiency.


More from Controls & Controllers