Webster Engineering Ships Alternative Fuel Burner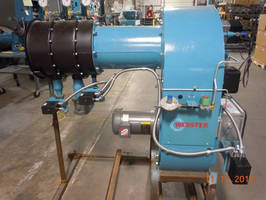 Winfield, Kansas - Webster Engineering announces the shipment of another alternative fuel burner. This model burns a combination of LP gas and Syngas (waste gas). The base burner is a HDRV burner with a triple head arrangement. One head is for the syngas and the remaining heads are for two volumes of LP gas depending on the amount of LP required for good combustion. In this case, the syngas does not have enough BTU content to burn on its own. A fireye NEXUS linkageless control is used for controlling the fuel mixtures.

The HDRV burner series ranges from 12,600 MBH (300 HP) to 40,300 MBH (1,000 HP) with an integral fan and is available with linkage, linkageless, or fully metered control systems. The HDRV burner is a register type burner and is a very forgiving burner when operating on a wide variety of fuels or BTU content.