Web Services Interface uses pre-existing XML technology.
Press Release Summary: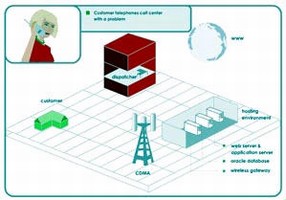 EService Simple Object Access Prototcol (SOAP) API offers set of functions that are called from external web-based application via SOAP. Functions allow external application to create new jobs in EService, dispatch job details to field devices, cancel and recall jobs, and otherwise manipulate jobs in EService. Product enables seamless integration of work details from user's existing application to field and back.
---
Original Press Release:
ECONZ Announces SOAP Interface for EService Mobile Platforms Software
New EService Web Services API Leverages Pre-Existing XML Technology to Make Customization Easy NEWPORT BEACH, Calif., Aug. 8 -- ECONZ Wireless, a mobile platforms software provider, today announces the launch of a new web service, Simple Object Access Protocol (SOAP) interface for its product, EService. EService is a mobile dispatch application for field service organizations. It is used by companies in industries such as plumbing, heating and air conditioning, locksmith services, glass repair, and cable TV and computer repair. The interface is available to both EService users and also to developers of 3rd party applications who would like to extend the capability of their solutions to include wireless connectivity to remote workers in the field. Applications that can be integrated include ERP, job management, work scheduling, accounting, project management and inventory management. These applications can now be interfaced quickly and at low cost to EService, extending their capabilities and delivering substantial benefits in terms of productivity and administration savings. "It is clear that integration to 'back-office' systems such as accounting or service management applications is an important aspect of providing end-to- end mobilization for field service organizations," said Steve Davis, chief marketing officer for ECONZ Wireless. "With an easy to implement integration path via SOAP for EService, we are able to provide the considerable benefits of EService while also allowing our customers to use their 'tried and proven' business management applications." Use of the EService SOAP API Accounting Application Integration For customers using common accounting applications such as QuickBooks, a separate application called the EService Accounting Package is downloaded. The EService Accounting Package uses the EService SOAP API and works like the software used to synchronize mail and contacts between a desktop PC and a phone. The EService Accounting Package is an application that runs on a user's desktop or server alongside the accounting application. The EService Accounting Package allows for data to be synchronized automatically or in batch mode between EService and QuickBooks. Job, customer, inventory, employee and invoice data is all transferred seamlessly between the two systems. In this way paperwork and data entry is totally eliminated with the information required for billing available in QuickBooks the moment a job ticket is completed. Larger Legacy System or ERP Integration For users with larger legacy systems or ERP applications, access to the EService Web Services SOAP API is provided to in-house or outsourced IT staff to allow them to quickly and easily integrate their systems to EService. Developers of 3rd Party Applications For developers of related 3rd party applications such as accounting, service management/scheduling and inventory management, the EService SOAP API provides an opportunity to integrate their applications with EService and open up substantial new markets for their solutions. EService is the only cell- phone based field service application with integration capabilities available through the Verizon Wireless 'Get It Now' catalogue. API Details The EService SOAP API is a set of functions that are called from an external web-based application via SOAP. These functions allow an external application to create new jobs in EService, dispatch job details to field devices, cancel and recall jobs, and otherwise manipulate jobs in EService. This makes it possible for the seamless transmission of work details from the user's existing application to the field and back using EService and the SOAP API. The API includes a Callback interface, that allows EService to send notifications to external applications about changes in job status and field devices such as when a job is completed or a user logs in on a field device. This allows for functionality such as status alerts and updates for managing Service Level Agreements (SLA) with jeopardy clauses. What is SOAP? SOAP is a message-based protocol based on eXtensible Markup Language (XML) for accessing services on the Web. It employs XML syntax to send text commands across the Internet using Hyper Text Transport Protocol (HTTP). SOAP is similar in purpose to previously developed distributed object systems, but is lighter weight. It requires less programming to integrate it with back- office software programs used in managing service work, inventory and ultimately, generating invoices. Most in-house IT teams, outsourced IT providers and 3rd party developers will be easily able to work with the EService SOAP API to quickly and at low cost complete integration to EService. Background on EService ECONZ' industry-proven product, EService, is one of the first truly affordable robust suites of applications available on mobile phones for small- to-medium sized businesses (SMBs). EService lowers administrative costs and improves productivity for mobile workforces through paperless job dispatch, timely invoicing and real-time inventory control. EService is used in a variety of industries, most notably those that employ a mobile workforce that regularly receives and logs project details while in the field, including locksmith services, plumbing, heating, ventilation and air conditioning (HVAC), electrical maintenance, office equipment servicing, telecommunications installation and service, mobile glass repair, building maintenance and vending machine service. Pricing and Availability ECONZ' EService with its new SOAP interface is now available from Verizon Wireless. The field application is downloadable to the user's cell-phone from the Verizon Wireless 'Get It Now' on-phone catalog. The EService dispatch system is then accessed via an internet connected personal computer where a setup wizard walks the user through the setup process. The EService Accounting Package and SOAP API pricing is based on user numbers and is available on enquiry. For more information, contact ECONZ Wireless sales support at 1-866-408-3475. The cost of EService is $19.99 per user for monthly access, which is billed to the customer's monthly wireless plan statement. About ECONZ Wireless ECONZ Wireless specializes in hosted wireless solutions for the SMB market including: field service dispatch/job management; time and attendance management and Location Based Services (LBS). ECONZ Wireless solutions connect mobile workers with their offices using simple web interfaces and cell-phone-based in-field applications. ECONZ Wireless is a QUALCOMM BREW Select Developer and markets its products in the United States exclusively through a Verizon Wireless National Joint Marketing Agreement (JMA). ECONZ Wireless is based in Newport Beach, Calif. ECONZ Wireless products are sold in the United States, United Kingdom, Australia and New Zealand. ECONZ Wireless is located at 3919 Westerly Place, Newport Beach, Calif. 92660. More information on ECONZ Wireless and its products can be found at: www.econz.com and www.eservice.econz.com or by calling 949-251 0178. CONTACT: Harry Lane, VP Channel Sales of ECONZ Wireless, +1-201-533-1867, or harryl@econz.com ; or Donna St. Jean Conti, APR of St. Conti Communications, +1-949-367-1416, or stconti@cox.net , for ECONZ Wireless