Web Gauging Systems target blown film industry.
Press Release Summary: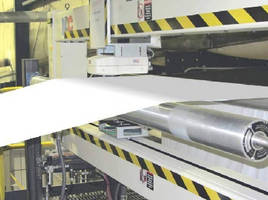 Designed for commodity single-layer film products, Model 8110-BF provides stationary film thickness measurement on either bubble or layflat. System features GBS sensor that is insensitive to environmental and product composition effects. For higher value-added blown film products, Model 8000 includes Double Layflat Separation Algorithm that computes single-layer film thickness from scanning double-layflat measurement and aligns film against die positions for accurate polar plot thickness profile.
---
Original Press Release:

NDC Announces New Blown Film Systems



Irwindale, California — (www.ndc.com ) — NDC announces the availability of a range of web gauging systems for the blown film industry with either stationary or scanning measurement capabilities and seamless configuration options (Fig 1). These systems are designed to produce a rapid return on investment through consistent film quality, reduced raw material consumption, efficient start-ups and faster product change times.



NDC's 8110-BF system is primarily designed for commodity single-layer film products; for example the industrial and technical films markets. It represents a cost-effective, expandable platform with stationary film thickness measurement options on either the bubble or layflat. This system features NDC's GBS sensor which is insensitive to environmental and product composition effects and is located either prior to or following the collapser for fast measurement performance. Alternatively, the system can be supplied with a fixed-point infrared FG710S transmission sensor for measuring the thickness of critical coextrusion layers. Both of these measurement options provide continuous measurement and display of blown film thickness.



NDC's 8000 scanning blown film system (Fig 2) is designed for complex, higher value-added blown film products; for example co-extruded barriers films, industrial geomembranes and protective laminating films. The system may be configured with either infrared, x-ray or beta transmission sensors on the layflat film following the collapser for fast measurement and control response.



The 8000 system includes NDC's unique Double Layflat Separation Algorithm (DLSA) that computes the single-layer film thickness from the scanning double-layflat measurement and accurately aligns the film against the die positions for an accurate polar plot thickness profile. This algorithm accounts for the rotation or oscillation of the die, the collapsers and the winder. It also compensates for melt slip and bubble twist to produce fast profile acquisition and tight product quality control.



When configured with NDC's FG701S transmission infrared sensor, the 8000 system can measure either film thickness or basis weight. This sensor can also simultaneously measure the thickness of up to four components of coextruded multilayer products, which has become a requirement for modern blown film lines. In addition, the 8000 system can include both machine direction control plus advanced profile controls (APC) (Fig 3) for greater quality, productivity and reduced scrap.



About NDC – NDC Infrared Engineering offers the world's most extensive range of non-contact sensors and systems for measurement of moisture, fat, and other constituents in tobacco, food and bulk products, basis weight and thickness in continuous web processes, and thickness, flatness and width in metal sheet goods.



The metals product line includes X-Ray and optical thickness gauges, laser-based flatness and width gauges and a range of XRF sensors to measure coating thickness.



The group's range of measurement technologies for the web industry includes infrared absorption, beta transmission, gamma backscatter, X-ray backscatter and transmission, optical and laser caliper. Applications include film and sheet extrusion, paper, foil and film converting, nonwovens, and rubber sheet manufacture. Products range from fixed-point low-cost devices for QA checks, to complete on-line system solutions for continuous precision measurement and process control.



The group is the world market leader in the design and manufacture of near infrared (NIR) sensors and systems for on-line and off-line analysis and measurement. The NIR product range includes instruments for monitoring fat, moisture and protein content in food; moisture, nicotine and total reducing sugars in tobacco products; film thickness, barrier layers and coat-weight in plastics; paper and board, foils and sheet steel.



NDC Infrared Engineering is headquartered at Irwindale, CA in the USA and Maldon, UK and Alleur, Belgium in Europe. Operating companies in Germany, Italy, China, Japan and India provide local support to key world markets, and NDC Infrared Group is presented in more than 60 countries worldwide by a network of specialist distributors.

NDC Infrared Engineering is a Spectris company, an international company specializing in high value-in-use process control solutions.



Contact:

USA/Asia: Hector Marchand, NDC Infrared Engineering Inc, 5314 North Irwindale Avenue, Irwindale, CA 91706, USA Tel: +1 626 960 3300, Fax: +1 626 939 3870, Email hmarchand@ndc.com or Europe, Africa, Middle East: Andrew Brunt, NDC Infrared Engineering Ltd, Bates Road, Maldon, Essex, CM9 5FA, UK Tel: +44 1621 852244, Fax: +44 1621 840995, E-mail: abrunt@ndcinfrared.co.uk

More from Agricultural & Farming Products