Weather Monitoring for Energy Efficiency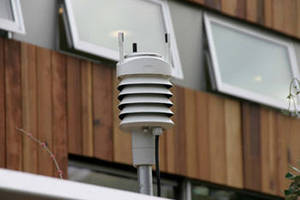 The Orion LX Weather Station from Columbia Weather Systems played a key role in the Third Place win in the 2009 Solar Decathlon. Refract House, a combined effort from Santa Clara University and California College of the Arts, utilizes the weather station to improve energy efficiency and control automated systems.

"One of the main reasons we chose the Orion Weather Station was because of the easy connectivity to the rest of our system, and because of its aesthetics," says Ross Rueker, SCU graduate student in Mechanical Engineering. "With no moving parts and its small design, we were able to provide our house with accurate weather data while still maintaining its sleek design."

Columbia Weather Systems manufactures professional weather stations with industrial interfaces including Modbus/OPC, SNMP, 4-20mA and XML.

For more information on the Refract House visit http://www.columbiaweather.com/SolarDecath.html.

More from Controls & Controllers