Wearable Electronics Enclosures eliminate movement restrictions.
Press Release Summary: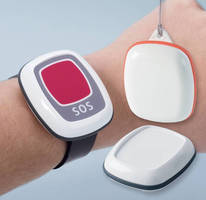 Specified with or without recessed top for membrane keypad or product label, 2.17 x 1.81 x 0.67 in. BODY-CASE fits to 18 mm wrist strap and lets wearers use wireless electronics without restriction of movement. Each case comprises top section with PCB location bars, bottom section with 4 pre-molded drilling centers for use when fitting contact pins, and soft-touch matt sealing ring. Rated to IP65 or IP67, enclosures accommodate touchscreen, pushbutton, or voice-activated electronics.
---
Original Press Release:

BODY-CASE: OKW's First Fully Wearable Enclosures



New BODY-CASE wearable enclosures can be specified with or without recess



OKW has launched BODY-CASE – the company's first ever fully wearable standard electronic enclosures.



Smart new BODY-CASE is OKW's first enclosure designed specifically for fitting a standard 18 mm wrist strap – so it can be worn just like a watch! Each enclosure is supplied with two 18 mm spring bars for fitting the wrist strap.



And with the optional fastening kit, BODY-CASE can also be hung around the neck on a lanyard, clipped to a belt/pocket or carried loose.



Applications include mobile data recording and transmission; tracking and monitoring; emergency call and notification; bio-feedback sensors for healthcare, wellness and sports fitness.



It can also be used for digital communications applications; stock and sales logging; safety engineering; measurement and control; automation or any roles where safety with permanent localisation is required.



These modern, ergonomic enclosures enable wearers to use wireless electronics inconspicuously and without restriction of movement. The cases can accommodate touchscreens, push buttons or voice-activated electronics.



Power is supplied by round or button cells on the PCB or by a rechargeable battery with a copper loop for charging the device inductively.



BODY-CASE is available in one size (2.17" x 1.81" x 0.67"). It can be specified either with or without a recessed top for a membrane keypad or product label.



Each case comprises three parts: a top section with PCB location bars; a bottom section with four pre-molded drilling centres for use when fitting contact pins (drilling required); a soft-touch matt sealing ring.



The board is held securely between the top and bottom sections after assembly with four tamperproof Torx M2 x 6 mm screws.



Protection levels are high: IP 65, IP 67. The highly polished top and bottom are molded from Traffic White (RAL 9016) ASA for high levels of UV resistance while the sealing ring is Lava or Vermilion (RAL 2002) TPE for enhanced ingress protection, aesthetics and ergonomics. Prices for BODY-CASE start at $14.



Accessories include a black silicon wrist strap with a stainless steel buckle. It is elastic, waterproof, comfortable to wear and easy to clean.



Also available as accessories are: a spring bar tool; fastening kit (featuring belt/pocket clip, lanyard eyelet, two covers for closing one or both wrist strap attachments), Torx T6 screwdriver; lanyard (33.86"); woven hand strap (7.87").



Customizing options for BODY-CASE include custom colors, special materials (V-0), RFI shielding, CNC machining, screen, tampo and digital printing of legends and logos and assembly of accessories.



For more information, visit the website: https://www.okwenclosures.com



Direct website product link: https://www.okwenclosures.com/en/Plastic-enclosures/Body-Case.htm

Datasheet PDF link: https://www.okwenclosures.com/en/drawings-pdf/00020199.pdf (paste into browser)



Contact: Sean Bailey

Email: seanb@okwenclosures.com

More from Architectural & Civil Engineering Products