Wear-Resistant Inserts suit cast iron machining.
Press Release Summary: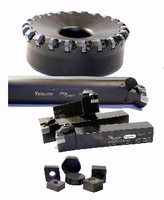 Offered in more than 80 styles, ValEDGE(TM) VPQ130 Silicon Nitride grade features geometries suitable for milling, turning, and boring. Units are available in various shapes, thicknesses, relief angles, and tolerance classes, as well as dimple-style clamping, standard ANSI/ISO types, and no-hole styles for use with milling cutters, turning toolholders, and boring bar designs. Low binder content results in tools with impact and wear resistance at elevated speeds.
---
Original Press Release:

New High-Strength & Wear-Resistant Grade For Cast Iron Machining From Valenite



Valenite LLC delivers multi-tasking versatility and exceptional performance for cast iron machining applications with the introduction of the new ValEDGE(TM) VPQ130 Silicon Nitride grade that joins the company's lineup of advanced materials tooling systems. For versatility, VPQ130 grade inserts are offered in more than 80 distinct styles, with geometries suitable for milling, turning, boring, and multi-function configurations that can be used in either milling or turning applications. The grade's application range is expanded further with various shapes, thicknesses, relief angles, and tolerance classes, plus dimple-style clamping, standard ANSI/ISO types and no-hole styles available for use with a variety of milling cutters, turning toolholders and boring bar designs...encompassing both new toolholder technologies as well as time-proven tool systems.

For performance that's geared to optimizing the machining of cast iron, the VPQ130 grade features construction consisting of high density Silicon Nitride and one that utilizes a low binder content resulting in tools that provide increased toughness and impact resistance for milling applications, as well as increased wear resistance at elevated speed ranges for more productive turning operations. These tools also provide enhanced notch wear resistance that helps to improve tool life when applications involve "as cast" materials. Additional performance characteristics can be specified with various nose radii and land/hone designations.

In gray cast iron turning applications, the VPQ130 grade allows speeds from 1500 to 3000 SFM (500-1000 m/min), and from 1200-2000 SFM (400-670 m/min) for high strength irons...with feeds from 0.004-0.012 IPR (0,1-0,25 mm/rev). For gray cast iron milling operations, guidelines for speeds are 1500-2500 SFM (500-850 m/min) while 1200-1800 SFM (400-600 m/min) speeds are suggested for high strength irons. Milling feed rates of from 0.004 to 0.010 IPT (0,1 to 0,25 mm/tooth) are advised for the VPQ130 grade.

For milling applications, the VPQ130 can be used with Valenite's V057, Val-U-Mill, and Val-U-Edge along with B-style and dimple style cutter bodies. In turning applications, the VPQ130 grade is ideal for use with the advanced-design ValTURNTM ProGRIPTM toolholders that feature an improved clamp design that holds inserts securely, a replaceable shim seat to protect the holder from damage, the elimination of the lock pin for easier indexing, and interchangeable clamp to shim-all adding up to fewer spare part requirements and improve productivity. .

In addition to the VPQ130 Silicon Nitride grade, Valenite's ValEDGE series of advanced materials tooling includes the VPD720 series of PCD inserts for high speed processing of non-ferrous materials, CBN inserts of cast iron machining and CBN tools for hardened part operations, plus ceramic systems for cast irons, steels, and high temperature nickel based alloys.

As with all Valenite products, ValEDGE series of components are supported through the company's ValProTM Customer Service group for ordering, pricing and delivery scheduling, plus a technical staff offering continuously updated product and application data, and recommendations to optimize metal cutting productivity.

Valenite, headquartered in Madison Heights, Michigan with sales and service operations worldwide, is one of the largest suppliers of industrial cutting tools in the world. The company offers a complete line of standard and special indexable-insert turning, milling, grooving, threading, boring and drilling products to a variety of industries. Its product line also includes the ValCOOL® line of cutting fluids. In addition, special high-production tooling for custom machining systems is produced under the MODCOÃ' name and a full range of inline, process and bench gaging systems is produced under the GAGING Systems name.

Send All Inquiries To:
Barb Craig
Valenite LLC
1675 E. Whitcomb
P.O. Box 9636
Madison Heights, MI 48071-9636
Phone: 800.544.3336
Email: customer.service@valenite.com

More from Sensors, Monitors & Transducers