Weapons Training System enhances reality for soldiers.
Press Release Summary: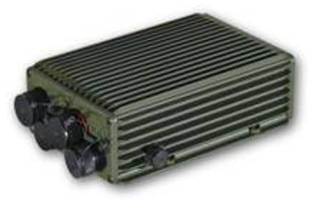 Equipped with optimized GPU and T2e tactical visual computer, ExpeditionDI Block 3 immersive, man-wearable training system offers weapon instrumentation package designed to improve total interactional realism for infantryman. It delivers optimal frame rate when running Bohemia Interactive's VBS2 software, allowing integration with programs such as CCTT, RVTT, and CCS. Realistic graphics and responsive sensors allow coordinated squad team's actions to be reflected across entire platform.
---
Original Press Release:

Quantum3D Upgrades ExpeditionDI with Enhanced Graphics Processor and Weapon Instrumentation



Industry's First Immersive, Untethered 'Dismounted Soldier' System Offers
Improved Graphic Frame Rates and Weapon Functionality

SAN JOSE, CA-April 14, 2009-Quantum3D, Inc., a leading provider of Commercial-off-the-Shelf (COTS) real-time visual computing solutions, today announced a substantial upgrade to ExpeditionDI, its immersive, man-wearable training system. The latest system, identified as ExpeditionDI Block 3, includes a new graphics processor that delivers a 300 percent performance improvement, as well as enhanced weapon instrumentation designed to improve realism for training infantryman.

The new computer, internally dubbed 'T2e,' is an enhanced version of the company's ruggedized Thermite 1300 tactical visual computer. Designed specifically for the ExpeditionDI system, T2e enables the latest generation games and application software to be hosted on ExpeditionDI. The new platform delivers frame rate improvements exceeding 300 percent when running Bohemia Interactive's VBS2 software, allowing ExpeditionDI to integrate seamlessly into programs such as the Close Combat Tactical Trainer (CCTT), Reconfigurable Vehicle Tactical Trainer (RVTT) and Combat Convoy Simulator (CCS).

Quantum3D has also added improved instrumentation to the weapons that it offers with its ExpeditionDI hardware platform. The instrumentation package for each weapon has been upgraded to support sensing all interaction with the weapon, including motion, aiming, modes of operation, and conduct of correct procedures for reloads and immediate action drills.

John Carswell, ExpeditionDI program director at Quantum3D, discussed the importance of these ExpeditionDI system upgrades for the Army's training initiatives: "Immersive infantry training will be one of the most important initiatives moving forward for our armed forces. Air and ground vehicle crews have benefited from immersive training for decades. The Army and Marine Corps are concerned with providing timely and accesible training to their infantrymen, and ExpeditionDI is the industry's only untethered, immersive training system that is capable of meeting these requirements by running a broad range of gaming and simulation software applications. The net result of these upgrades to our weapons and processor is that ExpeditionDI provides unparalleled performance for dismounted Infantry training. The ExpeditionDI Block 3 platform will enable our armed forces to 'train as they fight'-to a greater extent than ever before."

Pricing and Availability
The company noted that ExpeditionDI Block 3 systems are currently shipping and are available through GSA Advantage as well as through Quantum3D's sales channels.

About ExpeditionDI
ExpeditionDI is an immersive, man-wearable, field-ready, dismounted training system for infantry, police forces, executive protection, Homeland Security, the National Guard and more. The system's field-based mission simulator enables soldiers and civilians to be trained for any mission. ExpeditionDI delivers realistic graphics and responsive sensors that allow a coordinated squad team's actions to be reflected across the entire platform. With ExpeditionDI, training can be conducted from anywhere, preventing the need to remove infantry from their embedded locations or deploy personnel around the country.

About Quantum3D
Quantum3D, Inc. is a leading developer and manufacturer of Commercial-off-the-Shelf (COTS), open-architecture, real-time visual computing solutions. Quantum3D combines the most advanced hardware and software systems for graphics simulation in a variety of markets and implementations-image generation; tactical computing for avionics; vehicle and man-wearable applications; synthetic environments; graphics subsystems; and other COTS solutions. Quantum3D is a privately-held company headquartered in San Jose, California. For more information about Quantum3D real-time visual computing solutions, please visit www.quantum3d.com.

Quantum3D, the Quantum3D logo, are registered trademarks of Quantum3D. All other trademarks are the property of their respective owners.

The URL for this release is located at: http://quantum3d.com/press/PDF/2009/Q3D_Upgrades_ExpeditionDI.pdf

More from Controls & Controllers