WCK10 Ceramic Grades are wear-resistant.
Press Release Summary: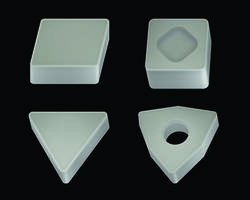 WCK10 Si₃N₄ Ceramic Grade is designed for roughing gray cast iron at high speeds. Units come with negative chamfer and stable dimple clamping. These grades support both wet and dry machining. Units increase process reliability and tool life.
---
Original Press Release:
Walter Unveils New WCK10 Ceramic Grade for Machining Gray Cast Iron
New WCK10 ceramic grade from Walter delivers higher cutting speeds, improved productivity, increased process reliability, and longer tool life.
The new WCK10 ceramic cutting grade from Walter is optimized for roughing gray cast iron at high cutting speeds, with either continuous or interrupted cutting. The inserts deliver improved productivity, process reliability and longer tool life due to their new Si₃N₄ wear-resistant ceramic cutting material.
Because the Si₃N₄ ceramic cutting material permits higher cutting speeds and higher cutting volumes than traditional solid carbide, production time and costs are reduced. In addition, the new WCK10 inserts feature a negative chamfer for longer tool life, stable dimple clamping, and the ability to handle both wet and dry machining. Users also benefit from their attractive price-performance ratio.
Walter, a global leader in the metalworking industry with over 90 years of experience in precision cutting tools for milling, drilling, turning, boring and specialized tools, helps customers improve process reliability and increase productivity. With Regional Headquarters in Waukesha, WI, Walter markets its competence brands Walter Valenite, Walter Titex, Walter Prototyp and Walter Multiply through a strong network of distributors and field engineers across subsidiaries in the USA, Canada, Mexico, Brazil and Argentina.
More from Test & Measurement