Waveguide Twists operate from 18-110 GHz across 7 bands.
Press Release Summary: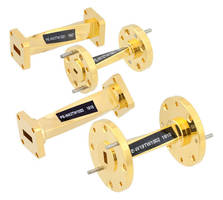 Available in sizes from WR-42 (18 GHz) to WR-10 (110 GHz) and suitable for waveguide systems requiring gradual turn in polarization and waveform, precision 45° and 90° waveguide twists prevent unwanted signal transmission distortion. Gold-plated brass construction offers electrical performance with VSWR as low as 1.02:1 and insertion loss as low as 0.2 dB. Square and circular UG-style flange types are available, and mechanical length ranges from 1–2.7 in.
---
Original Press Release:

Pasternack Unveils New Portfolio of Waveguide Twists Operating from 18 to 110 GHz Across Seven Bands



Waveguide Twists Available in 45 and 90 Degree Configurations In-Stock from Pasternack



Irvine, CA – Pasternack, a leading provider of RF, microwave and millimeter wave products, introduces a brand new family of precision waveguide twists operating from 18 to 110 GHz across seven frequency bands. Ideal for systems requiring a gradual turn in the polarization and waveform, these twists are designed and constructed to prevent unwanted distortion in the signal's transmission.



Pasternack's new waveguide twists are useful components when building a waveguide system, as they allow the waveguide to be turned at a precise angle in order to meet the mechanical and electrical constraints of the overall system. These waveguide twists are also beneficial in applications to ensure correct polarization of the signal. Pasternack offers both 45° and 90° waveguide twists from stock, with the 45° versions being available in both right hand and left hand twist configurations.



More than 20 unique models of waveguide twists are offered from Pasternack with waveguide sizes ranging from WR-42 (18 GHz) to WR-10 (110 GHz). This portfolio of waveguide twists boasts gold plated brass construction that offers excellent electrical performance with VSWR as low as 1.02:1 and insertion loss as low as 0.2 dB. Both square and circular UG-style flange types are available and mechanical length ranges from 1 to 2.7 inches. All waveguide twists from Pasternack are in-stock and available to ship the same day.



"Our new family of waveguide twists are the perfect addition to our growing waveguide product line as they provide more options for designers and engineers to choose from when constructing their systems," explains Mark Blackwood, Passive Components Product Manager at Pasternack. "Pasternack's rapidly expanding in-stock waveguide portfolio is the largest in the industry and provides customers a comprehensive suite of waveguide solutions."



The new waveguide twists from Pasternack are in-stock and ready to ship now. For more detailed information, please visit http://www.pasternack.com/pages/RF-Microwave-and-Millimeter-Wave-Products/waveguide-twists.html. Pasternack can be contacted at +1-949-261-1920.



About Pasternack

A leader in RF products since 1972, Pasternack is an ISO 9001:2008 certified manufacturer and supplier offering the industry's largest selection of active and passive RF, microwave and millimeter wave products available for same-day shipping.



Shaun Gameroz

Marketing Manager

(O) 949-267-9734 

(F) 949-261-5086

17802 Fitch 

Irvine, CA 92614

shaun.gameroz@pasternack.com 

www.pasternack.com

More from Fasteners & Hardware