Waveguide Transitions operate up to 110 GHz across 14 bands.
Press Release Summary: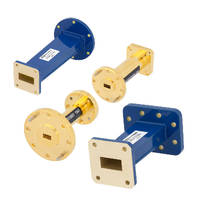 Operating from 5.85–110 GHz across 14 frequency bands, Waveguide to Waveguide Transitions are used in high power wireless applications such as instrumentation, test benches, SATCOM, MILCOM, radar, and telecom where signal strength and integrity are critical. Units provide smooth transition between different waveguide sizes with VSWR as low as 1.08:1. Constructed of gold plated or painted brass, transitions come with UG-style square and round flanges, CPRG-style flanges, or UBR-style flanges.
---
Original Press Release:

Pasternack Announces New Family of Waveguide-to-Waveguide Transitions Up to 110 GHz Across 14 Bands



Smooth Transitions between Waveguide Sizes with Minimal Loss Made Possible Using Pasternack's New In-Stock Waveguide Transitions



IRVINE, Calif.,  -- Pasternack, a leading provider of RF, microwave and millimeter wave products, adds a brand new family of waveguide transitions operating from 5.85 to 110 GHz across fourteen frequency bands. These waveguide transitions, also referred to as waveguide adapters, are widely used in high power wireless applications such as instrumentation, test benches, SATCOM, MILCOM, radar, and telecom where signal strength and integrity are critical.



In systems that utilize varying waveguide sizes and frequencies, it is necessary to have the proper transitions that result in the least amount of signal loss. Pasternack now carries a broad portfolio of in-stock waveguide transitions that provide a smooth transition between these different waveguide sizes with minimal loss and VSWR as low as 1.08:1. Constructed of rugged gold plated or painted brass depending on the model, these waveguide transitions are offered with UG-style square and round flanges, CPRG-style flanges or UBR-style flanges.



Currently, there are 23 unique models of waveguide to waveguide transitions offered from stock at Pasternack. Examples of waveguide size transitions offered by Pasternack include WR-10 to WR-12 and WR-28 to WR-51 to list a couple, while size/flange transitions are also offered such as a WR-22 UG-383/U round cover flange to WR-42 UG-595/U square cover flange. Mechanical lengths of these waveguide to waveguide adapters range from 1 to 6 inches and all units are REACH and RoHS compliant.



"Customers working with waveguide systems often need to make seamless transitions from one waveguide size to another. We now offer a wide range of tapered waveguide transitions with standard flanges to meet their needs," explains Mark Blackwood, Passive Components Product Manager at Pasternack. "These new components are part of a large and growing family of waveguide products designed to meet the urgent needs of our customers."



The new waveguide transitions from Pasternack are in-stock and ready to ship now. For more detailed information, please visit https://www.pasternack.com/pages/RF-Microwave-and-Millimeter-Wave-Products/waveguide-to-waveguide-transitions.html.  Pasternack can be contacted at +1-949-261-1920.



About Pasternack

A leader in RF products since 1972, Pasternack is an ISO 9001:2008 certified manufacturer and supplier offering the industry's largest selection of active and passive RF, microwave and millimeter wave products available for same-day shipping.



Press Contact:

Shaun Gameroz

Pasternack

17802 Fitch

Irvine, CA 92614

(949) 261-1920

More from Transportation Industry Products