Waveguide to Coax Adapters allow product selection above 18 GHz range.
Press Release Summary: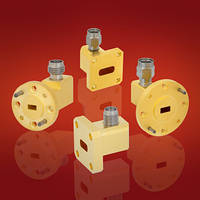 With right-angle configuration, Waveguide to Coax Adapters operates at frequency range of 65 GHz. Providing male and female connectors in each frequency band, unit comes with 0.85mm, 2.4mm and 2.92mm connectors. With VSWR of 1.29:1, device offers insertion loss performance of 0.3 dB. Suitable for SATCOM, wireless communications and defense systems, unit includes WR-42, WR-28, WR-22, WR-19 and WR-15 sizes. 2.92mm uses UG-style square waveguide flange.
---
Original Press Release:
Fairview Introduces a New Line of Right-Angle Waveguide to Coax Adapters
Waveguide to Coax Adapters from Fairview Operate up to 65 GHz and Feature 1.85mm, 2.4mm and 2.92mm Connectors
Fairview Microwave Inc., a supplier of on-demand microwave and RF components, has released a new line of 1.85mm, 2.4mm and 2.92mm waveguide to coax adapters with operating ranges up to 65 GHz. These waveguide adapters are ideal for numerous applications requiring a transition from coax to waveguide or vice versa, including SATCOM, wireless communications, industrial, test and measurement and defense systems.
Fairview's ten new waveguide to coax adapters extend the company's large portfolio to include millimeter wave frequency ranges with models in the K-band (18 to 26.5 GHz) up to the V-band (50 to 65 GHz). These coax to waveguide adapters offer excellent VSWR as low as 1.29:1, while also providing insertion loss performance as low as 0.3 dB. Waveguide sizes available for these new models include WR-42, WR-28, WR-22, WR-19 and WR-15.
Fairview's new waveguide to coax adapters feature a right-angle configuration, those with 2.92mm connectors use a UG-style square waveguide flange, 2.4mm and 1.85mm connector versions use a UG-style circular waveguide flange. Both male and female connector options are available in each frequency band.
"Our new waveguide to coax adapters allow us to expand our broad product selection above the 18 GHz range and meet our customers' application requirements up to 65 GHz with an extensive line of millimeter wave transitions," said Brian McCutcheon, Vice President and General Manager at Fairview Microwave.
All of the new waveguide to coax adapters from Fairview are in-stock and ready to ship now.
For more detailed information, please visit https://www.fairviewmicrowave.com/rf-products/waveguide-to-coax-adapters.html.Fairview Microwave can be contacted at +1-972-649-6678.
About Fairview Microwave
A leading supplier of on-demand RF and microwave products since 1992, Fairview Microwave offers immediate delivery of RF components including attenuators, adapters, coaxial cable assemblies, connectors, terminations and much more. All products are shipped same-day from the company's ISO 9001:2008 certified production facilities in Allen, Texas.
Press Contact:
Peter McNeil
Fairview Microwave
17792 Fitch Irvine,
CA 92614 (978) 682-6936 x1174
More from Portable Tools