Waveform Generators offer modulation capabilities.
Press Release Summary: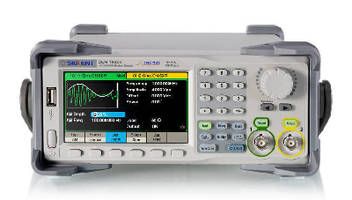 Equipped with 4.3 in. TFT LCD, Siglent SDG1000X Series of Function/Arbitrary Waveform Generators output sine, square, ramp, and pulse waveforms to 60 MHz with 14-bit sampling rate of 150 MSa/s at up to ±20 V. Units feature patented EasyPulse technology for low jitter and fast rising and falling edges that are frequency-independent, even at low duty cycle settings. With 0 dBm output, THD is less than 0.075%, with harmonics and spurious less than -40 dBc throughout entire bandwidth.
---
Original Press Release:

New Economical High Performance 30/60 MHz DDS Signal Generators from Saelig



Versatile AWG provides all waveforms up to the maximum frequency and offers modulation capabilities too



SDG1000X

Fairport, NY, USA: Saelig Company, Inc. (www.saelig.com) has introduced the Siglent SDG1000X Series of Function/Arbitrary Waveform Generators which output sine, square, ramp, and pulse waveforms to 60MHz with a 14-bit sampling rate of 150MSa/s at up to +/-20V. The SDG1000X generators feature Siglent's patented EasyPulse technology for low jitter and very fast rising and falling edges that are frequency-independent even at low duty cycle settings. EasyPulse technology results in a much more versatile generator than competitive designs - the specially-designed edge generator is capable of generating square waveforms up to the full 30 or 60 MHz frequency with low jitter. It is extremely unusual for a generator in this range to be able to produce square waves at frequencies as fast as its sine waves.



The two new SDG1000X signal generators - the 30MHz SDG1032X and the 60MHz SDG1062X - improve on the specifications of their successful predecessor SDG1000 series. With 0dBm output, the Total Harmonic Distortion (THD) is less than 0.075%, with harmonics and spurious less than -40 dBc throughout the entire bandwidth. The rise/fall times can be set independently to the minimum of 16.8 ns at any frequency and to the maximum of 22.4 s. The adjustment step is as small as 100 ps. Pulse widths can be fine-tuned to a minimum of 32.6 ns with adjustment steps as small as 100ps.



Multiple modulation functions are included in the SDG1000X series: AM, FM, PM, ASK, FSK, PWM, DSB-AM, linear/logarithmic sweep and burst. These instruments have a clear, straight-forward front-panel with a large 4.3" TFT-LCD display, and the user-friendly layout with its built-in help system simplifies their operation. USB host, USB device, and LAN (VXI-11) interfaces are provided, with GPIB available as a factory-fitted option.



The SDG1000X generators can be seamlessly connected to any Siglent oscilloscope for waveform display or reproduction of measured signals. Multiple custom arbitrary waveforms can be created, configurable with the powerful arbitrary waveform editing software EasyWave supplied with the generator; up to 10 user waveforms can be saved in nonvolatile storage. Additionally, 46 built-in kinds of arbitrary waveforms are provided.



With these advantages, the SDG1000X generators provide users with a variety of high fidelity, low jitter test signals, meeting the ever-growing engineering requirements. Applications include research and education, IC and circuit testing, environmental and medical signal simulation, etc. Housed in an attractive, rugged 11.7" x 10.2" x 4.2" case with built-in prop stand, SDG1032X/SDG1062X AWGs are available now at US$399/509 from Saelig Company Inc. For detailed specifications, free technical assistance, or additional information, please contact Saelig 1-888-7SAELIG, via email: info@saelig.com, or visit www.saelig.com.



About Saelig Company Inc.

Founded in 1988 in Rochester, New York, Saelig is a North American distributor with a growing reputation for finding and sourcing remarkable, unique test and measurement and control products and components for use in a wide variety of industries. Products lines are continuously added from sources across the globe, and are offered at competitive prices, accompanied by full in-house technical support, exceptional customer service, and fast delivery. For full details of available product lines, please visit www.saelig.com.



Contact Information

Email: info@saelig.com

Phone / Fax: 585-385-1750  / 585-385-1768

Web: http://www.saelig.com

More from Mechanical Components and Assemblies