Waveform Generator/Analyzers facilitate digital interfacing.
Press Release Summary: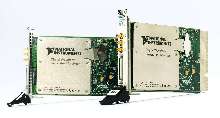 Built on Synchronization and Memory Core architecture, Models PXI-6542 and PXI-6541 offer 100 and 50 MHz maximum clock rates and 32 channels with per-channel direction control. They can be software configured to interface with broad set of common logic families of 5.0, 3.3, 2.5, and 1.8 V. Engineers can synchronize multiple digital modules for high-channel-count applications or synchronize digital with analog modules for mixed-signal applications.
---
Original Press Release:

National Instruments Releases PXI Digital Waveform Generator/Analyzers for Flexible Digital Interfacing


NEWS RELEASE - July 26, 2004 - National Instruments today announced two new PXI digital waveform generator/analyzers for common logic families. The new PXI modules are ideal for interfacing to high-pin-count digital ICs and electronics in a variety of industries including semiconductor, military/aerospace and manufacturing test. The company plans to release PCI versions of the modules later in 2004.

The new NI PXI-6542 and PXI-6541 digital waveform generator/analyzers offer 100 MHz and 50 MHz maximum clock rates and 32 channels with per-channel direction control. Design and test engineers can software-configure the modules to interface with a broad set of common logic families of 5.0 V, 3.3 V, 2.5 V and 1.8 V.

The new modules add high-density digital capabilities to the NI 100 MS/s mixed-signal suite of instrumentation introduced in August 2003. They are built on the company's Synchronization and Memory Core (SMC) architecture, a fundamental technology of the mixed-signal suite. The SMC architecture delivers a timing and synchronization engine, data transfer cores and deep, flexible memory. The architecture's synchronization engine can lock multiple instrument modules together through a set of shared clocks and trigger signals.

Using the SMC-based modules, engineers can synchronize multiple digital modules for high-channel-count applications or synchronize digital with analog modules for mixed-signal applications. The architecture preserves system investments by scaling software and test hardware across multiple applications or installments. For example, engineers can characterize a design using the 10 mV programmable levels on the PXI-6552 digital waveform generator/analyzer module and functionally test that design in production with the lower-cost PXI-6542 module while reusing their existing software test modules. Alternatively, an engineer can start with the PXI-6542 module for common logic families and move to the PXI-6552 digital waveform generator/analyzer module as the design's logic level technology changes.

Engineers can quickly create test applications with the modules by using two powerful software tools: Express VIs in the National Instruments LabVIEW 7.1 graphical development environment and the NI Digital Waveform Editor for interactively creating and editing digital patterns.

About NI Mixed-Signal Suite
The NI mixed-signal suite of modular instrumentation combines high-performance hardware, flexible software and innovative timing and synchronization technology for test and design applications. The mixed-signal suite includes:
o 100/50 MHz digital waveform generator/analyzers for common logic families (NI PXI-6542/PXI-6541)
o 100/50 MHz digital waveform generator/analyzers with programmable levels (NI PXI-6552/PXI-6551)
o 100 MS/s, 14-bit high-resolution digitizer (NI PXI-5122)
o 100 MS/s, 16-bit arbitrary waveform generator (NI PXI-5421)

About National Instruments
National Instruments (www.ni.com) is a technology pioneer and leader in virtual instrumentation - a revolutionary concept that has changed the way engineers and scientists approach measurement and automation. Leveraging the PC and its related technologies, virtual instrumentation increases productivity and lowers costs through easy-to-integrate software, such as the NI LabVIEW graphical development environment, and modular hardware, such as PXI modules for data acquisition, instrument control and machine vision. Headquartered in Austin, Texas, NI has more than 3,100 employees and direct operations in 40 countries. In 2003, the company sold products to more than 25,000 companies in 90 countries. For the past five years, FORTUNE magazine named NI one of the 100 best companies to work for in America.

Pricing and Contact Information NI PXI-6542 and PXI-6541 digital waveform generator/analyzers E-mail: info@ni.com

Priced from $2,995 Web: http://www.ni.com/modularinstruments

More from Electronic Components & Devices