Wausau Window and Wall Systems Helps Salt Lake City Public Safety Building Reach Net-Zero Energy, LEED Platinum Goals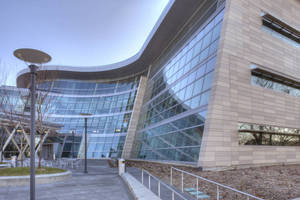 Wausau, Wis. – Salt Lake City's Public Safety Building sets a new standard in creating a functional, energy efficient government structure in stunning Modern architecture. It is the first public safety building in the nation to be designed as a net-zero energy building, generating as much energy as it uses. It also is one of the first public safety buildings designed to meet the U.S. Green Building Council's LEED® Platinum certification criteria. The newly opened building features Wausau Window and Wall Systems' unitized curtainwall, windows, light shelves and sun shades.



The $125 million, 335,000-square foot Public Safety Building includes 172,000 square feet of space on four levels above ground, and 143,000 square feet of secure parking below grade. In addition to housing Salt Lake City's police and fire departments, it functions as the primary disaster/emergency operations center for the area.



The building's glass façade was a central element of Salt Lake City-based GSBS Architect's design. The northwest-facing public "face" of the building features a serpentine glass curtainwall that slopes from one wing to the other. The design also called for the curtainwall to cant -- or angle -- in multiple directions.



In addition to complementing the Modern style of architecture shared by many of downtown's public-sector buildings, the Public Safety Building's glass exterior needed to meet seismic and ballistic requirements, as well as contribute to the building's LEED and net-zero energy objectives.



To address the complexities of the project's design and engineering needs, general contractor Okland Construction and glazing contractor LCG Facades quickly involved Wausau in the project's discussion.



"LCG Facades was brought in early in design phase to answer GSBS Architect's number one question: 'Can a curtainwall system segment and cant backward at 15 degrees and then change angle, while maintaining the cant through a reverse S curve?'" explained Ted Derby, business development manager at LCG Facades. "We thought with Wausau's help, we could make it happen. As soon as we received a wire frame 3-D model, we sent it to Wausau, and they came back with a conditional, but affirmative statement that they could make the design a reality. Shortly afterwards, Wausau and LCG Facades entered into a agreement to work together on the project."



Derby added that once the agreement was in place, Wausau's engineers visited Utah to view the construction site and meet with GSBS Architects, to ensure that the curtainwall and window system designs were in sync with GSBS' architectural vision. Once confirmed, Wausau moved into the next phase; applications engineering, fabrication and finishing of the curtainwall elements.



"The care and precision needed to make this complex design a reality was incredible," said Gene Pagel, Wausau's vice president of engineering. "Every piece, dimension and angle of the 135 unique curtainwall units located at the center of this building is different. That meant each component of each trapezoidal unit required design engineering and 3-D layout, along with precise and unique machining, fabrication, glazing and even shipping provisions."



For the Public Safety Building's lobby and main floors, LCG installed more than 32,000 square feet of Wausau's INvision™ Thermal Unitized Curtainwall, including 19,150 square feet of 7250i-UW Series and more than 13,000 square feet of 6250i-HRX Series. INvision products combine the benefits of natural light and outside views with the recognized performance and recycled content that may aid buildings seeking LEED certification. The selected INvision systems incorporate polyamide thermal barriers that enhance system thermal performance, condensation resistance and energy efficiency.



Maximizing performance, minimizing field labor and allowing designers to choose the ideal system depth, face width and thermal barrier, these unitized curtainwall systems are fabricated for quick, easy installation and are backed with a standard limited warranty of up to 10 years. The unitized systems' interlocking frame design accommodates seismic, live load and thermal building movements. Structural silicone glazing and sealing are completed in Wausau's LEED-Silver certified manufacturing center for quality assurance.



Along with the curtainwall, LCG Facades installed nearly two dozen Wausau 4250-Z Zero Sightline casement windows on the building's upper floors to support the project's goals for natural ventilation and a connection to the outdoors for occupants. Also contributing to the Public Safety Building's net-zero energy goals, Wausau engineered and installed Clear Story™ interior light shelves and sun shades to allow light to penetrate deeper into the interior spaces.



"A complete daylighting system provides shading from direct sunlight, glare protection and daylight redirection," explains Wausau's government/military market manager, Tom Mifflin, LEED Green Associate. "Lighting accounts for 40% of the energy used in a typical commercial building. Properly executed, daylighting can reduce HVAC peak loads with corresponding reductions in mechanical equipment capacity and carbon footprint."



Wausau's aluminum frames, light shelves and sun shades contain recycled content averaging 70% or greater. Linetec finished these aluminum components in "MC Platinum" using a two-coat, 70% fluropolymer mica flake paint. As an environmentally conscious finisher, Linetec safely captures and destroys the VOCs present in liquid solvent-based paints at the factory before arrival on the building site. Wausau's finished products comply with indoor environmental quality credits for low-emitting materials with respect to LEED criteria.



Viracon fabricated the high-efficiency, triple insulating glass used in the curtainwall and the low-e, insulated glass installed in the casement windows. In some curtainwall units, three different thicknesses of glass were needed to provide the security required for the project.



Other design components and practices contributing to Salt Lake City's net-zero and LEED-Platinum goals for the Public Safety Building include:

• Controllable task lighting to complement daylighting

• Interior building materials with low-VOC contents for improved air quality

• Photovoltaic panels within a glass awning that extends from the main entrance onto a newly created outdoor plaza, generating energy to power electrical outlets that are available for public use

• Rooftop photovoltaic panels to produce power for the building and high-reflectivity roofing materials that deflect heat

• Planted "green" roof areas that reduce the amount of water that enters the storm drain system and keeps the building and surrounding environment cooler, plus other on-site rain gardens and water-efficient landscape design

• Bicycle racks for staff and public use, and reserved parking stalls for low-emissions vehicles

• High-efficiency mechanical systems, including rooftop solar water heating system

• In-floor radiant tubes to assist in heating and cooling the building



The Public Safety Building was funded through a bond approved by voters in 2009. Work began on the building in June 2011 and was competed less than two years later. The Public Safety Building opened in July 2013.



"Wausau's excellent reputation was a big part of why we chose to work with them," noted Derby. "They certainly lived up to it with this project. We were impressed with the professional manner in which we were treated from the time we went to Wausau to review the bid together, as well as their thorough preparation of the bid documents, engineering, and project management. All materials were delivered on time and in first-rate condition. In short, Wausau made us look good!"



Salt Lake City Public Safety Building

475 South 300 East

Salt Lake City, Utah

http://www.mocamanage.com/slcweb



• Owner: City of Salt Lake; Salt Lake City; http://www.ci.slc.ut.us

• Architects: GSBS Architects; Salt Lake City; http://www.gsbsarchitects.com

• General contractor: Okland Construction, Salt Lake City; http://www.okland-const.com

• Glazing contractor: LCG Facades; Salt Lake City; http://lcgfacades.com

• Glazing systems –manufacturer: Wausau Window and Wall Systems; Wausau, Wis.;

http://www.wausauwindow.com

• Glazing systems –glass assemblies: Viracon, Inc.; Owatonna, Minn.; http://www.viracon.com

• Glazing systems –finisher: Linetec, Wausau, Wis.; http://www.linetec.com

• Photographer: Wayne Gillman



Video: http://www.youtube.com/watch?feature=player_embedded&v=gsqaMCEkVB0



Nationally recognized for its innovative expertise, Wausau Window and Wall Systems is an industry leader in engineering window and curtainwall systems for commercial and institutional construction applications. For more than 55 years, Wausau has worked closely with architects, building owners and contractors to realize their vision for aesthetic beauty, sustainability and lasting value, while striving to maintain the highest level of customer service, communication and overall satisfaction. Wausau is a part of Apogee Enterprises, Inc., a publicly held, U.S. corporation.



Wausau and its staff are members of the American Architectural Manufacturers Association (AAMA), the American Institute of Architects (AIA), the APPA – Leadership in Educational Facilities, the Construction Specifications Institute (CSI), Design-Build Institute of America (DBIA), Glass Association of North America (GANA), the National Fenestration Ratings Council (NFRC) and the U.S. Green Building Council (USGBC).





More from Communication Systems & Equipment