Watson-Marlow Fluid Technology Solutions Highlights Bredel Heavy-Duty Hose Pumps for Demanding Precious Metal Mining Applications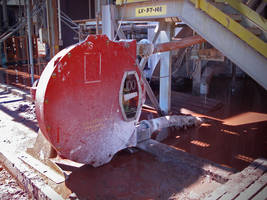 Watson-Marlow Fluid Technology Solutions (WMFTS) highlights its range of Bredel heavy-duty peristaltic hose pumps, ideal for the most demanding precious metal mining applications. Bredel pumps have a proven ability to handle abrasive pastes and chemicals, including viscous slurries, grit-filled sludge corrosive acids, and other challenging materials. These industrial pumps achieve flow rates of up to 475 gallons per minute, transferring up to 80 percent solids in suspension. Hose pumps can also reduce filter capacity by as much as 75 percent, resulting in substantial savings, given the high cost of disc filters.
Precious metal mines around the world are replacing centrifugal pumps with hose pumps, which are far less affected by such fluid dynamics as paste density, viscosity, suction conditions, and discharge pressure. Hose pumps are also unaffected by the abrasive and aggressive nature of paste and chemicals. Unlike diaphragm, rotary lobe, and progressing cavity pumps, the peristaltic design of Bredel hose pumps contains no moving parts that come into contact with the product, and no seals, ball-checks, diaphragms, glands, immersed rotors, stators or pistons to leak, clog, corrode or replace.
Bredel hose pumps also eliminate the need for ancillary equipment, including dry run protection, seal water flush systems, and in-line check valves. A simple hose change takes only minutes and can be performed in-situ without special tools or skilled personnel.
The low maintenance peristaltic design offers a low total cost of ownership. As the fluid is safely contained within the hose or tube, operation and maintenance personnel and the environment are protected from unwanted spillages or exposure to chemicals.
Bredel hose pumps are dry-running and self-priming, and allow no slippage, for true positive displacement to provide accurate and repeatable metering.
The pumped fluid is completely contained in a long-life hose, protecting operation and maintenance personnel and the environment from unwanted spillages or exposure to chemicals. Flow is entirely independent of suction and discharge conditions. Every Bredel hose is precision machined to ensure flow stability and pump performance in tough fluid handling applications.
For more information on Bredel heavy-duty hose, visit https://www.wmfts.com/en-us/brands/bredel-hose-pumps/.
About Watson-Marlow Fluid Technology Solutions
Watson-Marlow Fluid Technology Solutions is an award-winning, global leader in fluid management technology and for over 60 years has engineered components and systems for customers in the food processing and handling, pharmaceutical and industrial markets. The company is part of Spirax-Sarco Engineering plc, a FTSE 100 company. Learn more at www.wmfts.com or @WMFTS_news.
Contact:
Kristin Nugent
McNeil, Gray & Rice
+1-617-367-0100, Ext. 148
kristin.nugent@mgr1.com
Related