Watlow® Achieves UL® and CSA Certifications on its FLUENT® Heater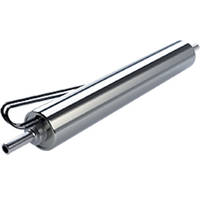 St. Louis, MO – Watlow®, an industry leader in the design and manufacture of complete thermal systems recently announced that it achieved UL® 499 and CAN/CSA C22.2 No. 72-10 component recognition certifications on its FLUENT® in-line heater.
UL® 499 is the Underwriter's Laboratories, Inc.'s (UL®) Standard for Electric Heating Appliances, and specifies a series of electrical standards, temperature ratings, failure states, etc. to which a product must comply. Achieving the Standard is acceptance that a component meets safety requirements for electricity and fire. The Standard covers heating appliances rated at 600 volts or less, and have an electrical power rating of 15 kilowatts or less per steam generating vessel.
CSA is the Canadian Standards Association and its requirements are similar to UL's requirements.
"Completing UL® and CSA approval on the FLUENT heater was the next critical step in the development of the FLUENT product platform," said Andy Selvy, chief system designer. "Customer safety is of utmost importance to us, so achievement of all necessary safety certifications ensures that our products will perform safely and accurately in our customer's application."
The FLUENT is a high watt density, low mass heater that enables on demand heating with an ultra-fast response, leading to higher system performance. The standard construction includes an internal baffle to promote turbulent flow and high efficiency, a fast responding, high watt density layered heater circuit, low profile axial lead exit and an internal thermocouple for high limit control. Powered by Watlow's patented thermal spray technology, FLUENT makes use of its entire surface to produce heat, which optimizes heat transfer and temperature uniformity.
Watlow is currently offering standard sizes ranging from 250 to 4,000 watts, with several designs available for quick delivery. For more information please visit http://www.watlow.com/fluent.
About Watlow
Watlow provides best in class engineering expertise and leading thermal products that enable customers to thrive.
Watlow brings its experience to numerous industries, including semiconductor processing, environmental chambers, energy processes, diesel emissions, medical and foodservice equipment.
Since 1922, Watlow has grown in product capability, market experience and global reach. The company holds more than 450 patents and employs 2,000 employees working in nine manufacturing facilities and three technology centers in the United States, Mexico, Europe and Asia. Watlow also has sales offices in 50 countries around the world. The company continues to grow, while the commitment remains the same – to provide its customers with superior products and services for their individual needs.
For additional information call your nearest Watlow representative:
Watlow
Phone: 1+ (800) WATLOW2, 1+ (314) 878-4600
Fax: 1+ (877) 893-1005, 1+ (314) 878-6814
For more information, contact:
NA: Lisa Ptasienski, 314-628-4620, lptasienski@watlow.com
EUR: Johann Lainer, +43 6244 201 29-49,
jlainer@watlow.com
ASIA: Hazel Tan, +65-6578 5672,
More from Sensors, Monitors & Transducers