Electrical Sensors / Detectors / Transducers
Watertight Sensors monitor automotive battery current.
Press Release Summary: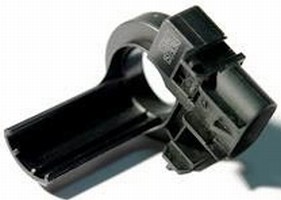 Comprised of 12 sensors, HAB series measures battery-pack current in electric, hybrid, and conventional vehicles without breaking battery power bus. Models are based on open-loop, Hall-effect transducers and offer choice of voltage or PWM outputs. Featuring response time of under 10 msec, sensors are available with primary current measuring ranges that cover ±20 to ±120 A range with ±2% accuracy across operating temperature range of -40 to +125°C.
---
Original Press Release:

LEM Introduces Family of Current Sensors for Automotive Battery-Monitoring Applications



HAB family will enable accurate measurement of battery-pack current in electric, hybrid and conventional vehicles

Key points:

· Accurate measurements without breaking the battery power bus

· Primary current measuring ranges from ±20 to ±120A

· Robust, watertight design

GENEVA, Switzerland and MILWAUKEE, WI (December 19, 2006) - LEM S.A., the world's leading manufacturer of isolated current and voltage measurement components, today introduced its HAB family of current sensors for automotive battery-monitoring applications. The 12 sensors in the family offer primary current measurement ranges from ±20 to ±120A, a high accuracy of ±2% across the operating temperature range of -40 to +125°C and a choice of voltage or PWM outputs.

The sensors are based on open-loop, Hall-effect transducers that simplify both installation and servicing by removing the need to cut the cable carrying the measured current. They operate from a unipolar 5V supply and provide a fully ratio metric solution for the voltage output devices. Response time is less than 10ms.

A watertight housing and sealed connector provide full environmental protection in under-the-hood applications.

Principal applications are expected to be in the measurement of battery-pack current in electric, hybrid and conventional vehicles.

LEM

LEM is a market leader in providing innovative and high quality solutions for measuring electrical parameters. Its core products - current and voltage transducers - are used in a broad range of applications in industrial, traction, energy, automation and automotive markets. LEM's strategy is to exploit the intrinsic strengths of its core business, and develop opportunities in new markets with new applications. LEM is a mid-size, global company with approximately 700 employees worldwide. It has production plants in Geneva (Switzerland), Machida (Japan), Beijing (China), plus regional sales offices, and offers a seamless service worldwide. Further information is available at: www.lem.com

The HAB current sensor is fixed on the battery cable of a car. It provides to a calculator (BCM) the actual value of current in the cable. The current value is modulated by a PWM electrical signal. The sensor is linked to the BCM with the car harness. The electrical connection is made with a waterproof connector.

Bandwidth: DC to 100 to 1000 Hz
Response time : < 10 ms
Current range defined by the peak current and minimum current to measure
Large dynamic of the current to measure (more than 10)
Temperature range : -40 to 85 or +125°C
Overcurrent (cranking)

Contacts:

Ted Smith
LEM USA
Tel: +1-414-434-4303
E-Mail: tms@lem.com
Website: www.lem.com

or

Perrin McCormick
Hart-Boillot, LLC
Tel: +1-781-893-0053, ext. 15
E-Mail: pmccormick@hartboillot.com

More from Fluid & Gas Flow Equipment