Waterproof Turbidimeter conforms to ISO 7027 standard.
Press Release Summary: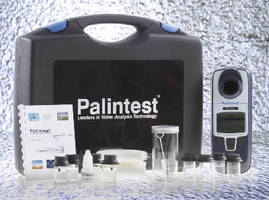 Designed to test turbidity in drinking water, wastewater, and surface water, Compact Turbimeter is built around QuadoptiX™ optical bench, which uses 2 independent turbidity measurement systems for dual validation. Device offers continuous measurement, averaging, and Suspended Solids operating modes. It can also test for 0–1050 NTU, with results also available in other units. For GLP compliance, results are logged and tagged with operator and site identity information, along with calibration data.
---
Original Press Release:

New Compact Turbimeter from Palintest for Reliable Portable Turbidity Measurement



MUMBAI, -- Palintest Ltd [http://www.palintest.com ], the leader in water analysis technology, is delighted to announce the launch of the new Compact Turbimeter [ www.palintest.com/products-details.aspx?id=96 ] featuring QuadoptiX(TM) advanced testing technology.



Designed for the field professional to test turbidity in drinking water, wastewater and surface water, the Compact Turbimeter is built around the new QuadoptiX(TM) optical bench. This new technology effectively uses two independent turbidity measurement systems for dual validation, resulting in improved reliability and accuracy - especially for samples with mobile or settling matter.



The device features several operating modes, including continuous measurement, averaging and Suspended Solids. It can also test for a range of 0 - 1050 NTU, with results also available in other units. Results are logged and tagged with operator and site identity information, along with calibration data for good laboratory practice (GLP) compliance.



The meter is waterproof to IP67, conforms to the ISO 7027 standard, and comes supplied in a hard case including stable calibration standards, test tubes, silicone oil and other accessories to provide the user with a comprehensive field kit for turbidity measurement.



About Palintest

Based in the United Kingdom, Palintest (www.palintest.com [http://www.palintest.com ]) is a specialized manufacturer of water analysis technology, with its origins dating back to 1870. In the 1950s, Dr. Thomas Palin joined the company after developing the principal of breakpoint chlorination for water and inventing the DPD testing method for chlorine levels in drinking water. The DPD method, though over 50 years old, is still the recognised standard chlorine test both in China and around the world. Through continued improvement, refinement and innovation, the company is now the world's leading producer of a full range of testing equipment and reagents for water, soil, and the environment.



About Halma

Halma p.l.c. (www.halma.com [http://www.halma.com ]) is an international market leader in safety, health and sensor technology. Halma is a public company listed on the London Stock Exchange and has over 4000 employees in over 40 subsidiaries worldwide. Halma's subsidiaries make products that protect lives and improve the quality of life for people through innovation in market leading products which make its customers safer, more competitive and more profitable. These subsidiaries are assisting India's economy in areas such as manufacturing, energy, water and waste treatment, the environment, construction, transport and healthcare.



Halma has a Hub office in Mumbai. For further news about Halma in India and to subscribe to the Halma India RSS News Feed, please visit our blog at: http://halmapr.com/news/india.



Primary Media Contact: Mr. Kuniyur J. Srinivasan, srini@halma.com, 91-22-67080400



Secondary Media Contact: Mr. Damian Corbet, damian.corbet@halma.com, 44-1494-789152

More from Material Handling & Storage