Waterproof Connectors protect cables even when disconnected.
Press Release Summary: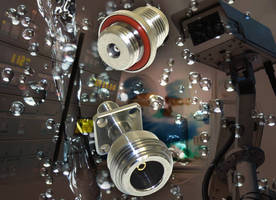 Preventing ingress of moisture into connecting cable or equipment, Pisces waterproof connectors meet IP68 requirements even when unmated. Connector and cable termination options are suitable for coaxial/triaxial/twinaxial waterproof connector groups, while available SMA, TNC, and N Type cable plug options support connection to such cables as LMR, RG, semi-rigid, and semi-flexible types. These products suit applications in which connectors may have to be disconnected while in service.
---
Original Press Release:

Intelliconnect Waterproof Connectors Protect Cables from Moisture Ingress - Even When Disconnected



There are no shortage of waterproof connectors available to design engineers. A great number however have to be mated to actually be waterproof as the casing acts as the seal. In many applications this is not adequate as connectors may have to be disconnected while in service for calibration, repair, module exchange and connection of different ancillary equipment. In these circumstances it is of critical importance that both the plug and jack remain waterproof while disconnected to prevent ingress of moisture into the connecting cable or equipment preventing loss of performance or damage.



Intelliconnect (Europe) Ltd the UK based specialist manufacturer of waterproof and RF connectors and low-loss cable harnesses can offer designers their market leading Pisces range of waterproof connectors which meet IP68 even when unmated.



The recently extended Pisces series now includes additional connector and cable termination options suitable for most Coaxial/Triaxial/Twinaxial waterproof connector groups. Pisces connectors are now available in SMA, TNC and N Type cable plug options which may be connected to a wide variety of cables including many LMR, RG, Semi-Rigid and Semi-Flexible cable types. All plug types have matching, waterproof when disconnected, jacks to prevent moisture ingress damaging the electronics inside the equipment housing.



The product enhancements to the Pisces connector series extend the range of potential applications to include 75 ohm variants for video camera security applications, environmental monitoring ocean buoys, traffic cameras (ANPR), coastguard/HM customs patrol boats, personal locator beacons, military radios/communication systems, environmental monitoring and water management and vehicle tracking. Other potential applications are high quality antennas, personal locator beacons, cochlear Implant devices, petrochemical monitoring equipment, traffic indication systems, environmental monitoring, SCADA (data-loggers etc.),



In addition to Intelliconnect's renowned fast turnaround custom designed connector service their extensive standard range includes IP67 and IP68 rated interconnect solutions for harsh environments including N Type, SMC, SMA, TNC, Push-Pull and ABMS (harsh environment MCX). The SSMA is a smaller version of SMA which provides higher frequency performance. The male contact is designed to be the same size as the cable conductor so that it can be used as the mating pin for optimised VSWR (Voltage Standing Wave Ratio - a measure of how efficiently radio-frequency power is transmitted from a power source, through a transmission line, into a load).



Intelliconnect (Europe) Ltd manufactures a wide range of standard and custom RF connectors, components and low loss cable assemblies , including waterproof, push-pull, triaxial connectors for medical (dosimetry etc.) applications, dust caps and terminations and fast turnaround custom designs which are undertaken without NRE charges to their customers. They also manufacture a large range of coaxial adaptors, to facilitate inter-series connection and gender change. For more information call +44(0)1245 347145, email sales@intelliconnect.co.uk or visit www.intelliconnect.co.uk



About Intelliconnect (Europe) Ltd;

Formed in the UK in 2003 in response to the almost complete abandonment of the UK by the RF connector manufacturing industry, Intelliconnect joined forces with a small innovative US operation in 2004 and has quickly become a market leader in design led manufacturing of RF connectors, waterproof multi-pin connectors and cable assemblies. Both the UK and USA divisions of Intelliconnect now enjoy a growing reputation for high quality products and first class service. Their product range includes waterproof connectors which have become established as the solution of choice for specifiers in the marine, oil and gas, defence, medical and general antenna markets. They produce a range of triaxial components which are recognised as the best quality available in the market today. Their Custom design service, which attracts no NRE charges, is the quickest available in the connector industry today. Intelliconnect also offer a full range of standard RF connectors and a cable assembly service.



Intelliconnect is unable and does not wish to compete with the plethora of low-cost offshore product available in the market today. Rather they offer traditional engineering values coupled with innovation, agility and a passion for serving their customers.



For further information contact;

Intelliconnect (Europe) Ltd.

Unit 5 Beehive Business Centre

Beehive Lane, Chelmsford, CM2 9TE

+44(0)1245 347145

sales@intelliconnect.co.uk

www.intelliconnect.co.uk



John Ellis

Proactive Marketing and Communications Ltd

37 Ramsdell Rd, Fleet, GU51 1DD

+44 (0)1252 642444

John@proactive.uk.com

More from Communication Systems & Equipment