Waterproof Antenna suits 2.4-2.5 GHz frequency band.
Press Release Summary: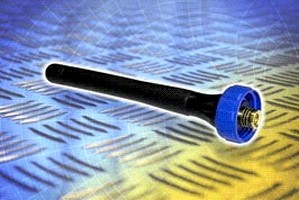 Featuring IP68 sealed design, Buccaneer Medium Gain Antenna has integrated SMB connector with 19 mm overall diameter and mating panel connector with 16 mm diameter panel fixing hole. Unit provides protection from harsh environments, and all electrical connections are gold-plated to ensure system performance. Panel connector is terminated with RG-174 cable in 0.5, 1.0, or 1.5 m lengths. Applications include WLAN, GSM, Bluetooth, Zigbee, instrumentation, and telemetry equipment.
---
Original Press Release:

Waterproof 2.4GHz SMB Antenna



THOUSAND PALMS, CALIFORNIA - December 12, 2007 - The Buccaneer Antenna is a robust and completely waterproof medium gain antenna specifically developed for the 2.4 to 2.5GHz frequency band.

Integrating the antenna with its waterproof connector can reduce the total number of connectors in the RF chain, reducing insertion losses, effectively increasing the total system gain.

Designed to the same style as Bulgin's SMB Buccaneer, the sealed antenna has an integrated SMB connector with an overall diameter of just 19mm and the mating panel connector has a panel fixing hole of 16mm diameter. Rated at IP68, the PX0407 provides complete protection from harsh environments, and all electrical connections are gold plated to ensure system performance and reliability is maintained.

The panel connector, PX0414, with an SMB jack, is terminated with RG-174 cable in 0.5m, 1.0m or 1.5m lengths, this provides fast assembly to the panel and only requires termination into the equipment.

"Having a two-part solution with removable antenna and panel connector makes installation and testing a much simpler process, while also ensuring that the environmental seal and enclosure integrity are maintained", commented Charlie Fixa, Vice President for Elektron-Bulgin North America. Fixa went on to say, "this will be another addition to our family of IP rated products from Bulgin."

Typical application areas are base stations and outdoor hotspot installations, specifically for wireless LAN, GSM, Bluetooth, Zigbee, instrumentation and telemetry equipment.

About Bulgin Components
Bulgin Components is one of the electronics industry's longest running success stories. After more than 75 years trading, the Bulgin name is familiar and trusted worldwide. Many of our components have gained the status of industry standards. Our major customers, whether distributors or OEMs, rightly demand the highest achievable standards of quality and service, and we continually review our operations to ensure we meet or exceed expectations. For more information about Bulgin Components, visit www.bulgincomponents.com.

Reader Contacts:
Bulgin Components, an Elektron Company
31-315 Plantation Drive
Thousand Palms, CA 92276
Tel: +1 (760) 343-3650
Fax: +1 (760) 343-3445
sales@Arcolectric.com

More from Material Processing