WaterPro® PS Polishing Stations Deliver 1.8 Liters Per Minute of Type 1 Water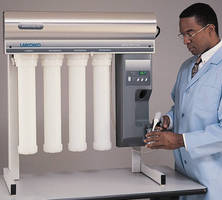 The WaterPro® PS Polishing Stations are compact point-of-use water purification systems that deliver up to 1.8 liters/minute of Type I water. Water is dispensed from either gun or valve on the built-in module. Control panel buttons and LED display allow the user to program the system to dispense water for a set period of time from 1 to 99 minutes. After the set time period has elapsed, the dispenser automatically shuts off.

The unpigmented virgin natural polypropylene bowls have no impurities to contaminate the water, maintaining low TOC levels. The bowls accommodate various combinations of deionization, carbon and organic adsorption filter cartridges based on application requirements. Cartridges are large to minimize filter changes. Systems for general chemistry, analytical instruments and life science are offered.

Each model includes a built-in water quality alarm that flashes actual water quality in megohm-cm to alert the user when water quality falls below a set point.

For more information regarding Labconco's full line of WaterPro Water Purification Systems, call Labconco Corporation at 800-732-0031, e-mail at labconco@labconco.com or download the PDF brochure at www.labconco.com.

More from Test & Measurement