Waterless Urinals Save More than Water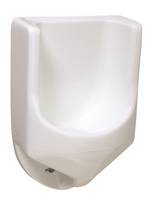 Priced any urinals lately? Water using urinals can cost $200 up to as much as $1,200. And the urinal flush valve - usually sold separately - adds another $100 to $500 to the price tag.
In comparison, waterless urinals made by Waterless Co. start at $248, and the EcoTrap insert needed for the system to operate costs just $7.75.
This means installing waterless urinals not only saves 35,000 gallons of water per year per urinal, it can also save building owners anywhere from $150 to more than $1,600 per urinal.
For more information, visit www.waterless.com or call toll-free: 800-244-6364.
About Waterless
Waterless® Co. Inc. has established a reputation as an innovative manufacturer, serving the building, plumbing, and janitorial industry for over 25 years. Based in Vista, Calif., Waterless Co. offers quality, innovation, and expertise in water conservation and high efficiency products for building owners with a full line of Waterless No-Flush urinals, cleaning liquids, and cost saving accessories.
Visit: www.waterless.com.
Waterless® Co. Inc.
1050 Joshua Way Vista, CA 92081
USA
800.244.6364
More from Agricultural & Farming Products