Waterjet Cutters and Cutting Machinery
Waterjet Micromachining System offers taper-free cutting.
Press Release Summary: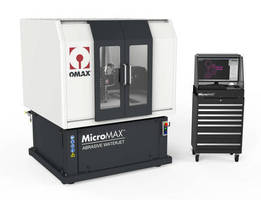 With 2 ft 4 in. x 2 ft 4 in. table and X-Y cutting travel of 2 x 2 ft, MicroMAX JetMachining Center uses abrasive waterjet technology to cut micron-level parts or part features from diverse materials. Rigid system utilizes linear encoders, vibration isolation, and software control systems to achieve position repeatability of <3 microns and positioning accuracy of ~15 microns. Along with 7/15 Mini MAXJET5i nozzle, machine supports Tilt-A-Jet® cutting head accessory.
---
Original Press Release:

OMAX® Introduces Taper-Free Cutting in Waterjet Micromachining



New Mini Tilt-A-Jet® nearly quadruples position accuracy for even more precise cutting



KENT, Wash. — With its MicroMAX JetMachining Center, OMAX proves the speed, versatility and accuracy of abrasive waterjet technology now applies to the cutting of micron-level parts or part features from a wide range of materials, including exotic metals, advanced composites, polymer thermoplastics and glass.



Ideal for prototype development and production runs, the MicroMAX is a highly rigid machine with a table size of 2 feet 4 inches by 2 feet 4 inches and an X-Y cutting travel of 2 feet by 2 feet. It utilizes advanced high-precision linear encoders, innovative vibration isolation and intuitive software control systems to achieve a position repeatability of less than 3 microns and a positioning accuracy of approximately 15 microns (0.0006").



The MicroMAX comes equipped with a high precision 7/15 Mini MAXJET5i nozzle that features a 0.007" orifice and 0.015" mixing tube combination for quickly and accurately cutting delicate, complex patterns. Because it forms a jet stream carrying an extremely fine abrasive, the nozzle can produce a kerf as small as 0.015". The machine also has advanced pressure controls for piercing delicate materials.



Now, a smaller version of its OMAX Corporation's award-winning Tilt-A-Jet® cutting head designed specifically for its MicroMAX JetMachining Center is also available. The new Tilt-A-Jet accessory nearly quadruples the position accuracy of the nozzle enabling the machine to achieve virtually zero taper with most materials up to 3" in thickness. It is also 25 percent smaller and lighter than the Tilt-A-Jet designed for OMAX's other machine models and is nearly twice as rigid for less deflection. The Tilt-A-Jet for the MicroMAX employs 10 degrees of tilt, and is fully sealed for use in the abrasive waterjet environment.



Like all OMAX JetMachining Centers, the MicroMAX is a flexible, cost-effective and beneficial alternative to conventional machining operations. Because waterjet-based machining is a cold-cutting process, it eliminates thermal stress in the workpiece, preventing hardening and warping. The MicroMAX also enables manufacturers across all industry segments to accomplish quick turnaround of accurate parts without the hassle of tool changes or complex fixturing, as well as achieve smooth surface finishes without the need for secondary machining.



About OMAX

OMAX® Corporation designs and manufactures the world's most advanced abrasive waterjet technology in a variety of table sizes and price points at its headquarters in Kent, Washington. Backed by unmatched support and powered by the company's intuitive control software, OMAX and MAXIEM® JetMachining® Centers bring affordable performance to a continuously expanding range of industries. For more information on OMAX products and accessories, contact Sandra McLain at (800) 838-0343 or visit www.omax.com.



Sarah Knight

Public Relations Manager

dgs Marketing Engineers

317.813.2224 Direct

317.813.2222 Main

Web: www.dgsmarketing.com

Blog: www.dgsmarketingengineers.com/blog



About dgs Marketing Engineers

dgs Marketing Engineers offers advertising, public relations, and other marketing services to companies targeting technically minded individuals.

Related