Waterjet Cutters and Cutting Machinery
Waterjet Machining Center meets large-scale requirements.
Press Release Summary: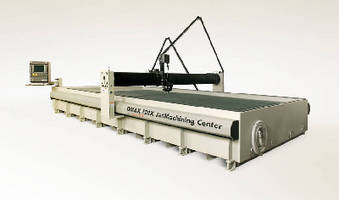 Available in 4 models with lengths of 13, 20, 26, and 32 ft, 120X JetMachining® Center is 10 ft wide with work envelopes capable of handling standard domestic and international sheet material sizes. Abrasive waterjet system features closed loop, high pole vector drives for precise movement, and can cut with accuracy of motion up to ±0.005 in. Running on Windows® OS, Intelli-MAX® Premium Software can calculate velocity of tool path at over 2,000 points/inch.
---
Original Press Release:

OMAX® Unveils 120X JetMachining® Center for Large-Scale Abrasive Waterjet Machining



Kent, Washington, - OMAX® Corporation has announced the introduction of its 120X JetMachining® Center, which has been specifically designed for manufacturers with large-scale abrasive waterjet requirements. Four specific models of the 120X are available, with lengths of 13 feet, 20 feet, 26 feet and 32 feet. Each of the models is 10 feet in width and features work envelopes capable of handling standard domestic and international sheet material sizes.

The 120X was developed in response to a rise in demand for large-scale precision machining from manufacturers serving a variety of industries, including aerospace, petroleum, food processing, and equipment fabricators. By integrating proven technologies, the 120X is in the mold of the established 80X line. By doubling the traverse speed, the machine ensures the high productivity levels that have come to be associated with abrasive waterjet machining.

Featuring a patent pending drive system with closed loop, high pole vector drives, the 120X achieves accurate and precise movement. The innovative Intelli-TRAX(TM) traction drive further ensures higher accuracy. The traction drive system makes the 120X a robust and reliable system that is well suited to harsh environments and requires little maintenance. The work table comes standard with submersible cutting capability.

The 120X incorporates OMAX's Intelli-MAX® Premium Software, which runs on a Windows® operating system. The system can calculate the velocity of a tool path at over 2,000 points per inch, allowing for complete control over the motion of an abrasivejet, and enabling precise, rapid machining. Additionally, a USB port on the Y-axis bridge allows direct connection to a machine controller and additional E-stop/Pause button pendant. This allows for more convenient operation when working near the cutting zone. The 120X has the ability to cut with an accuracy of motion up to +/- 0.005". Additionally, it does not require tool changes or complex fixturing, reducing setup times by at least 50%.

OMAX believes in manufacturing the best machines and accessories possible with the best software available, and works to continually develop cutting-edge technology and innovative software for its customers. As a result, each OMAX product comes with the OMAX Technology Guarantee, which provides software upgrades for all existing customers at no additional charge.

About OMAX

Headquartered in Kent, Washington, OMAX Corporation is the world leader in abrasivejet machining. Each OMAX JetMachining® system is powered by the company's innovative control software, bringing affordable abrasivejet technology to an expanding and diverse group of industries. For more information on OMAX products and accessories, contact Sandra McLain at 800.838.0343 or visit www.omax.com.

More from Test & Measurement