WaterFurnace Envision NDW Now Utilizes Aurora Controls and HydroZone Control Panel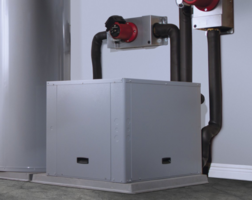 Fort Wayne, Ind., Feb. 16, 2021 /PRNewswire/ -- WaterFurnace International, Inc., the leading manufacturer of geothermal and water source heat pumps, is proud to announce that the Envision NDW hydronic unit now utilizes Aurora Advanced Controls and a HydroZone control panel. 
The implementation of Aurora Controls offers two-way communication between components, advanced operating logic, and robust troubleshooting capabilities. This feature comes standard with true energy and refrigeration monitoring and supports optional performance monitoring. Integration with the HydroZone control panel supports easy setup configurations. An intuitive menu with large backlit display lets homeowners and service providers easily monitor both tank and outdoor temperatures. These enhancements to the NDW Envision can provide consumers increased savings and efficiency for large home hydronic applications. 
The Envision NDW Series products are designed to meet today's larger luxury homes' high-volume water demands. Envision NDW Series units are some of the most efficient heating and cooling systems available and can be used for numerous applications such as radiant floor heating, domestic hot water*, pool heating*, keeping the ground free of snow and ice, and more. These units offer the features homeowners expect while providing high-capacity heating and cooling performance.  
To learn more about the Envision NDW Series, visit https://www.waterfurnace.com/residential/products/geothermal-heat-pumps/ndw.
Editorial Contact:
Dez Wiercyski
dez.wiercyski@waterfurnace.com
Source WaterFurnace International